Fianna Fáil Finance spokesman Michael McGrath has said that he does not accept that the mortgage legislation it is proposing is potentially unconstitutional. 
Speaking on RTÉ's Six-One News Mr McGrath said when the Bill was first debated last July the then Government raised no issues around its constitutionality, and described it as "bizarre" that that this argument was being made now.
Fianna Fáil wants to re-introduce a bill that would give the Central Bank greater powers to tackle high variable interest rates on home mortgages. 
This same bill was decisively voted down by the last government.
Mr McGrath said he would much rather legislation of this type was not necessary but in his assessment it was.
He said that he believed the existence of the proposed powers on the statute books would exert further downward pressure on the mortgage interest rates being charged by banks.
He said there had been some progress but some banks were still charging customers four and five times the cost of funds.
Mr McGrath said he did not accept that the legislation could affect competition or investment in Irish banks.
He said that there were significant decisions to be made in sale of certain banks, but that Ireland needed a banking model that was sustainable, and charging rates "way over the odds" was not the basis for a sustainable banking model in Ireland.
Earlier, Finance Minister Michael Noonan said the proposed Fianna Fáil mortgage bill was "seriously flawed".
Speaking on his way into the Cabinet meeting this morning, Mr Noonan said the bill has constitutional issues. 
In a statement today, Mr Noonan said the bill has three flaws - some of the provisions appear unconstitutional, the ECB needs to be consulted before the legislation the bill proposes could be enacted and the Central Bank Governor (and his predecessor) both stated that they do not wish to regulate interest rates.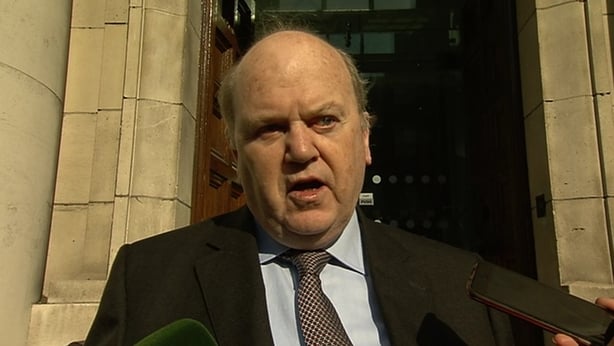 "As an independent body even if the Central Bank were given the power to regulate interest rates they could not be required to exercise this power. In addition competition is not a function of the Central Bank, it falls within the remit of the Competition and Consumer Protection Commission (CCPC)," the Minister stated.
A Government spokesperson said today it will try to move a reasoned amendment to this bill in the Dáil.
If this was successful it would take the bill off the floor of the Dáil and it would instead be considered under what is called pre-legislative scrutiny.
The spokesperson said both Fianna Fáil and Fine Gael want the same outcome but they said Fine Gael also has to stand up for it believes to be the right thing.
But should the Government fail to get support for its amendment, the minority administration will not oppose the Fianna Fáil bill this week - the clearest sign yet that the Government will have to operate in a new way.