Vodafone said its recovery would accelerate this year after investment in faster networks boosted demand in Europe.
This helped the group return to underlying revenue and core earnings growth for the first time since 2008.
Chief executive Vittorio Colao said a strong year for the world's second mobile operator had been capped by a recovery in the final quarter in Europe, its largest region which has taken more than five years to nurse back to health.
"We achieved the first quarter of positive revenue growth in Europe since December 2010," he said today.
In Germany, Vodafone was "back in game" against former incumbent Deutsche Telekom, while Italy, another laggard, also recovered in the final quarter, he said.
But the company now has fewer than 2 million mobile customers in Ireland for the first time since 2005.
Vodafone Ireland lost 47,000 customers between January and March according to its latest results. It added 8,000 broadband customers, however, during the period. It now has 239,000 broadband customers.
Overall the company had total service revenue of €953.7m in Ireland during the year - up 1.9% year-on-year, with its fixed business revenue seeing particularly strong growth.
Meanwhile Vodafone's performance in its UK home market was marred by problems with a new billing system, but Colao said the business should be back to normal in the second half of the year.
The company has been spared the drop to fourth place in the consumer market in Britain after Europe on May 11.
Colao said the European Commission had no choice but to block the merger between rivals Telefonica's O2 and Hutchison's Three because they were in separate network infrastructure sharing agreements with Vodafone and market leader BT's EE.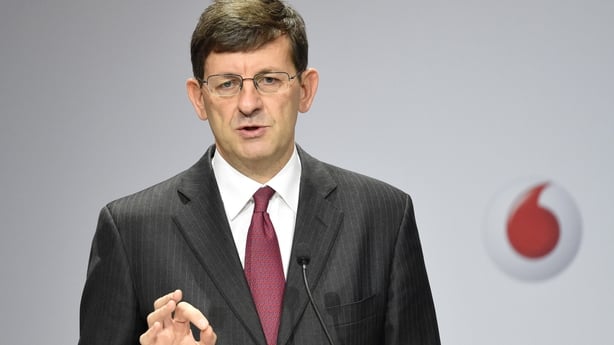 The ruling does not bring any certainty to the market, with the future of both companies in Britain in doubt. "My sense is that there will be commercial alliances, possibly deals," he said.
Vodafone has spent £19 billion on Project Spring, a programme that has brought 4G speeds to 87% of its European footprint, built more fixed-line fibre and extended 3G coverage in emerging markets such as India.
Colao said the group had 47 million customers on faster 4G networks across 21 countries, and on average they were using twice as much data as they were on 3G networks.
"Price is coming down, but people are spending more," he said. "It's a win-win for consumers and for the company."
Vodafone reported earnings before interest, tax, depreciation and amortisation of £11.6 billion for the year to the end of March, slightly shy of forecasts but up 2.7% and said it expected this rate to accelerate to 3-6% this year.
"I am confident we will sustain our positive momentum in the coming year, allowing us to maintain attractive returns for our shareholders," the CEO said.
Capital expenditure will fall after the end of Project Spring, but not as much as had been forecast, to the mid-teens as a percentage of revenue rather than 13-14%.
Analysts said Vodafone's improving core earnings momentum should be met positively, although the raised capex outlook, and its likely impact on free cash flow and dividends would offset that.
Vodafone reported full-year revenue of £41 billion, up 2.3% on an underlying basis. It raised its final dividend by 2% to 7.77 pence.