SuperValu remains the largest supermarket group in Ireland with a 23% market share of the grocery spend here.
New figures from Kantar Worldpanel shows that Tesco remains in second place with its share of the market at 22.2%, while Dunnes has a share of 21.5%.
Discount supermarket group Lidl maintained its position as the fastest growing retailer in the 12 weeks to April 24 with another 43,000 shoppers visiting their stores. It has a market share of 11.2%, while fellow discounter Aldi now captures 10.9% of the grocery spend in Ireland.
Kantar Worldpanel figures also show that grocery sales rose by 3.8% in the 12 weeks under review compared to the same time last year.
It noted that over the last 12 weeks, the average household made 63 separate trips for groceries, up four trips on the same time last year.
"This is linked to a reduction in the overall size of the average grocery trip - which has dropped from €22.40 last year to €21.60 - as we see a rise in top up shops whereby consumers buy fewer items more regularly throughout the week," commented David Berry, director at Kantar Worldpanel.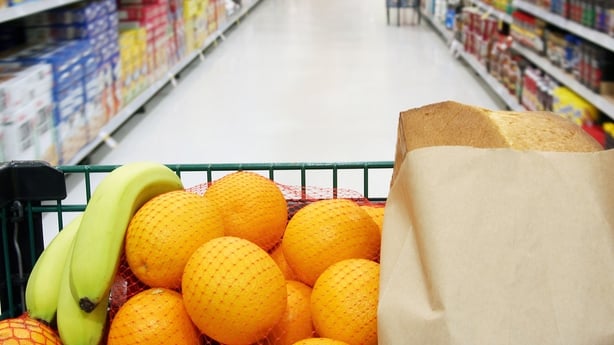 Kantar Worldpanel said that SuperValu saw strong growth across fresh staples in the last 12 weeks with sales of fruit, vegetables, meat and poultry all seeing healthy increases as the company launched a campaign to get the general public to cook from scratch using fresh ingredients.
Meanwhile, Tesco managed to sell more times this year but at a lower average price point. The result saw the value of sales dip by 0.7%,  but volumes sales rose by 2.7% in the 12 weeks under review.
And at Dunnes, bigger trips have been its main driver of growth with an extra €2.50 spent at the tills this year compared to last year. 
"This is testament to the ongoing success of Dunnes 'Shop and Save' campaign - incentivising shoppers to spend more each visit in return for money off next time is a formula that has really worked for the grocer," commented David Berry. 
Kantar Worldpanel said that the number of households taking part in the survey has increased by two thirds from 3,000 to 5,000. It said this makes it one of the most representative continuous panels of its kind.