European airports are racing to redesign terminals and offer new services to pull more passengers into their stores, in the face of online competition and militant attacks that have kept away some big-spending Asian travellers. 
Seeking to boost the key measure of retail sales per passenger, airports are expanding and refurbishing shopping areas and ensuring routes to gates steer customers past - or through - as many stores and restaurants as possible. 
Vienna Airport, for example, plans to expand the shopping and food area in its Terminal 2 by about 50% - including a duty-free store positioned right after security, which passengers must pass through. 
London's Stansted has just completed an £80m makeover that increased space in the departure lounge by 60%, providing more room for shops. 
Retail accounts for almost a fifth of airports' revenue, a proportion that has grown steadily in the past decade, according to airports association ACI Europe, and is increasingly relied upon to help fund infrastructure and services. 
But the lucrative business has been hit by falling numbers of Asian travellers, traditionally the biggest spenders. 
Major European airlines have reported falling demand from passengers from China and Japan this year as a result of the attacks in Paris and Brussels. 
Airport retailers' advantage of a captive audience of travellers has also been undermined by people being able to shop and compare prices at will on mobile devices, so they are being forced to employ new strategies to court customers. 
"Air travellers have become very discerning price-wise and impulse buying at the airport is becoming rarer," said ACI Europe spokesman Robert O'Meara.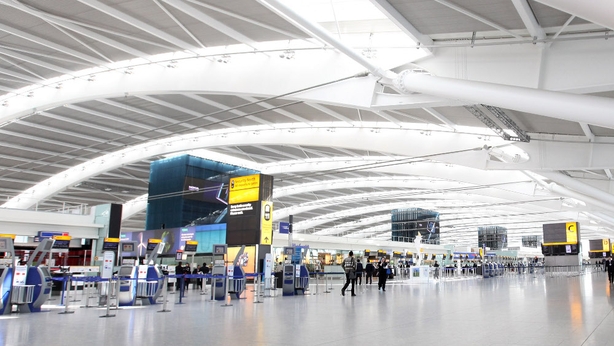 Frankfurt airport is trialling a scheme where passengers in the Lufthansa lounge can shop on their tablets and have goods brought to them, and another where passengers can order food to be brought to the gate and eaten there or on their plane. 
Stansted, Britain's fourth-busiest airport, is offering hand massages at the Jo Malone area in its duty-free store, while its bigger London rival Gatwick and Copenhagen airport have thrown up temporary "pop-up" shops to tempt passengers into spending there and then, rather than waiting. 
Many European airports, including Copenhagen, Gatwick, Stansted and London Heathrow, also now offer "collect on return" services that allow customers to buy goods and pick them up when they return from their trip. 
Stansted launched the service at the beginning of the year and customers are leaving about 3,000 bags a week full of airport-bought goods and collecting them upon their return. 
Heathrow, Europe's busiest airport, offers passengers not flying via Terminal 5 the chance to order items from the Chanel store there - a service much used by high-net worth customers flying to the Middle East from Terminal 4. 
"If you give passengers good service, put them in control of their time, they will spend more with you," Heathrow CEO John Holland-Kaye told Reuters. 
His airport completed a £40m revamp of its luxury shopping area last year that added more shops, including Louis Vuitton and Bottega Veneta. 
While the concept of duty-free was invented in Shannon in 1947, it has since lost meaning for European travellers, which do not get the tax-free prices that passengers from outside the European Union enjoy. 
Frankfurt airport operator Fraport illustrated the importance of Asian travellers when it said that passengers from China, Russia, South Korea, Japan and Vietnam made up just 7% of passengers in 2015, but 31% of retail revenue.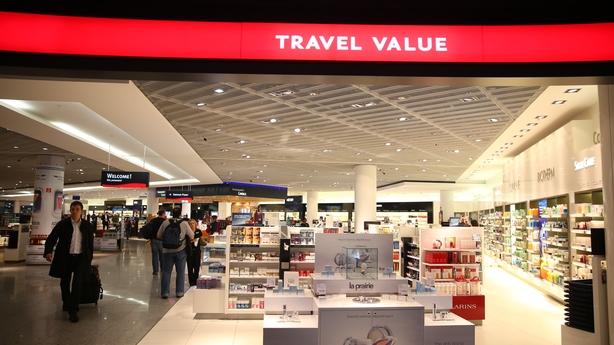 Both Fraport and fellow operator Aeroports de Paris said this week that retail sales per passenger had dropped in the first quarter of 2016, partly due to the impact of the Paris attacks. 
Faced with such hurdles, airports are trying to maximise the time available to customers to shop by reducing times spent queuing at security checks and giving people better directions via apps or touch-screens to find their way around often sprawling terminal buildings. 
Fraport's app, for example, allows passengers to take a picture of a sign at Frankfurt airport and have it translated into Chinese. 
European airports relied on non-aeronautical revenue - sales earned from retail and car parking - for 40% of their revenues in 2013, the most recent year for which data is available, according to ACI Europe. 
Of that revenue, retail - including food and drinks sales - accounted for 46%, up from just 28% in 2008. That equates to about 18% of airports' total revenue. 
Typically, airports receive fees from retailers comprising of rent and royalties from sales. Citi analysts said of the airports they covered, Heathrow had the highest per passenger retail revenues. 
The British hub increased its retail revenue by 9% in 2015, about a fifth of its total annual revenues, representing per passenger retail revenue of £7.58, up from £7.14 the previous year.