Consumer sentiment improved marginally in April as many consumers continue to struggle to make sense of an unclear economic environment.
The KBC Bank Ireland/ESRI consumer sentiment index rose to 102.7 in April from March's reading of 100.6. The index had hit a 15 year high in January.
KBC Bank Ireland's chief economist Austin Hughes said today's survey suggests that people are in "wait and see mode" as they try to assess which set of forces is likely to determine their fortunes over the coming months.
The economist said that global concerns - including Brexit, the slowdown in China and the health of the financial markets - have coincided with a more uncertain domestic outlook.
"However, Irish consumer sentiment was helped recently by a range of positive commentaries on domestic economic prospects and actions by the ECB that suggests the prospect of an extended period of low interest rates," he added.
He also pointed to a slight improvement in consumers' views on both the economic outlook and job prospects.

"We think they may owe something to a further sequence of upbeat domestic and international forecasts for the Irish economy that suggest a capacity to deal with an uncertain global backdrop," he stated.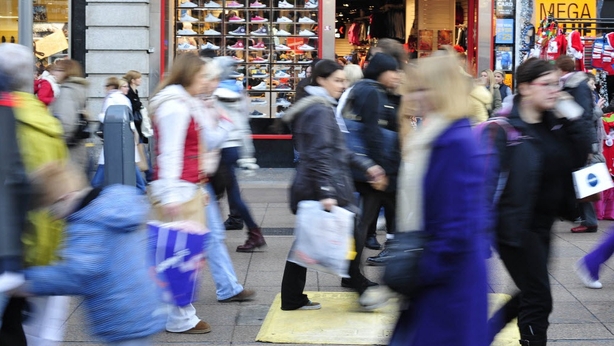 Mr Hughes also stressed the importance for the incoming government to be realistic when setting out how its policies may affect the country's economic and social prospects and problems.
Daniel Foley of the ESRI said that the trend for the main indices continues to point upward, suggesting that confidence is still broadly positive.
He noted that perceptions of the buying climate also improved last month, with more people thinking it was a good time to make large household purchases.