An Post's annual report for 2015 shows that revenue rose by over €10m to just over €826.1m from €815.4m in 2014.
The company's loss in delivering its universal service obligation narrowed to €32.3m from just over €38m the previous year. But An Post said the loss is an ongoing matter of concern despite decreasing from a €67.3m loss in 2012.
Overall, An Post said it made a profit of €8.6m for last year, compared to €3.3m in 2014.
Today's report also reveals that An Post recorded inflows of €400m to the state's savings fund during the year - a fairly healthy flow against the backdrop of historically low interest rates at the moment.
Total savings in the fund stands at over €19.5 billion.
An Post also noted that mail volumes are down 35% from their peak in 2007.
It said that the mail revenue loss has been compensated by cost reductions, "modest" price increases, new product revenue and a strong performance from subsidiaries.
The company said that last year saw continued investment in its mail and retail networks. 43 post offices were completely refurbished, while 14 vacant post office contracts were advertised in various parts of the country.
Six post offices were closed during the year, while in 17 areas around the country, local mails delivery services were relocated to a purpose-built Delivery Service Unit (DSU).
The company said that Post Insurance, which was formerly known as One Direct, continued to grow its business. An Post said the company is extending its underwriter base to increase its market reach.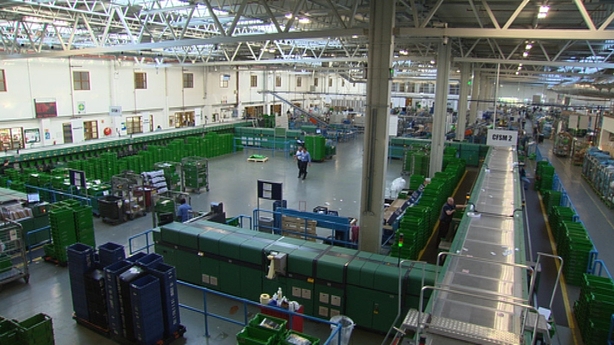 An Post is also a majority shareholder in the Gift Voucher Shop (GVS). One4all giftcard products dominate the Irish market and it noted that GVS continues to make significant progress in the UK market.
In all, the contribution of An Post subsidiary companies increased by 23% from €13m in 2014 to €16m.
An Post chief executive Donal Connell said that 2015 was another year of significant challenge and progress as the company continued to focus on the changing needs of its customers and markets.
"Our strategy of implementing appropriate pricing and cost efficiency measures in the core business while maintaining high standards of service quality, product innovation and diversification has to-date enabled the company adequately cope with unprecedented threats and challenges," Mr Connell stated.
"However, the medium and longer term issues of safeguarding the USO and sustaining a realistic, high quality Post Office network now require urgent discussion with all stakeholders, so that the core company can achieve the necessary level of profitability to ensure its fiscal stability," he added.
An Post CEO to leave in the second half of the year
Meanwhile, Donal Connell, who joined An Post as CEO in 2006, said today that he plans to leave the company in the second half of this year when his contract expires.
Mr Connell said that An Post, through its mails business, post office network and subsidiary portfolio, has a vital role to play in the Irish economy.
"The company has a tradition of innovation and is now well positioned to respond quickly to changing market needs and to convert these opportunities into reality. I am proud of the progress we have made over the last ten years in transforming our business for the future, while dealing with difficult economic conditions and an evolving technology environment," he added.
Mr Connell said he plans to pursue other business interests in the coming months.