The country's biggest exporter of dairy products, Ornua, has reported earnings before exceptional items of €58.8m for last year, an increase of 18% on the previous year's numbers.
Ornua said its revenues for the year rose by 9% to just over €2.5 billion.
The improved figures from Ornua came against a challenging backdrop of falling milk prices globally following the abolition of quotas just over a year ago.
The former Irish Dairy Board is to return €14m to members in its annual bonus, plus an additional €15m special members bonus from the proceeds of its disposal of a majority stake in its US distribution business.
Ornua also announced that due to the global dairy market downturn, it will suspend the monthly Ornua milk level from May. 
Through the milk levy, Irish dairy farmers directly contribute to the Kerrygold brand and the marketing development of Irish dairy products in over 110 countries.
"Notwithstanding the levy's important contribution to Ornua, it is hoped that the suspension will go some way towards supporting farming families at this difficult time," it added.
Ornua's CEO Kevin Lane said the company was very pleased to report a solid 2015 performance across its foods and ingredients businesses.
"In the first year following the removal of EU milk quotas and the first year of the Ornua identity, we have delivered growth in existing and new markets," Mr Lane stated.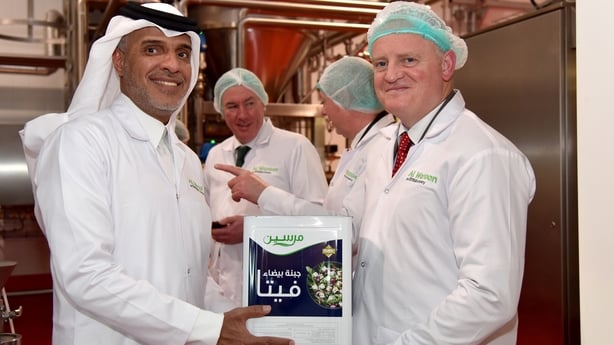 "We are confident that, whilst recognising the challenging market conditions that exist, our business will continue to deliver strong returns and growth thereby enhancing value for the farmers we represent," he added.
The company said that last year was a challenging period across the world's major dairy-producing regions as a combination of strong supply and demand weakness led to a fall in global prices. 
On a worldwide basis, milk supply grew by 5% from January 2014 to December 2015 while demand only rose by 3%. This resulted in the building up of stocks, and as a result prices weakened. 
It noted that sales of its flagship Kerrygold butter reached a record €740m as it became the top butter brand in Germany and the third biggest seller of branded butter in the US.
Meanwhile, Ornua has revealed that it paid an average of over €1m in remuneration to its top nine executives over the two years 2014 to 2015. 
The figures are published for the first time in the company's annual report today.
The report also showed that the amount it paid in directors' fees increased by 44% over the past two years.
CEO Kevin Lane said Ornua published the figures in the interest of full transparency and that the payments had been benchmarked against industry peers.