Primark-owner Associated British Foods would not be damaged by Brexit its chief executive said today after the company reported a bigger than expected increase in first-half profits. 
Britain will vote on whether to stay in or leave the 28-member bloc in a June 23 referendum and most opinion polls show the rival "In" and "Out" campaigns running neck and neck. 
"The important point to get across today, really to our shareholders, is that Brexit isn't a major threat to us one way or the other," AB Foods' chief executive George Weston told Reuters. 
As well as fashion retailer Primark, AB Foods also has major sugar, grocery, agriculture and ingredients businesses. 
It trades across 48 countries and has a stock market capitalisation of £26.4 billion - nearly double the market value of Tesco, Britain's biggest retailer. 
"We've had a good look at the potential impact of either Brexit or not Brexit on AB Foods and it's not very big," said Weston, whose family has a majority holding in AB Foods' shares. 
He said the limited impact was due to two reasons. 
"Firstly we have a natural hedge between euro and sterling earnings and secondly we are not moving much manufactured food product between the euro zone and the UK. Our supply chains are quite local. So we're not likely to be impacted to any great extent by changes in currency or changes in tariff," he stated.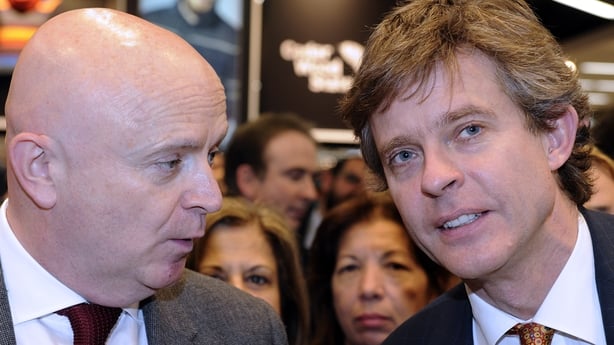 British finance minister George Osborne said this week that leaving the EU would do permanent damage to the country's economy. In February, leaders of more than a third of Britain's biggest companies said Brexit would put the economy at risk. 
Weston's comments followed publication of AB Foods' profits which were up 3% to £486m in the six months to February 27. That compared with analysts' average forecast of £480m, according to Thomson Reuters data. 
Group revenue for the six months fell 2% to £6.12 billion. 
The company said currency pressures that had held back its performance were starting to ease. 
It highlighted further selling space expansion at Primark, and an encouraging entry into the US for the clothing business which accounts for more than half of group profit. 
Like-for-like sales at Primark compared to the same period last year were broadly flat, with warm weather across Europe hitting its performance.  
Profits at the budget fashion retailer, which trades as Penney's in Ireland, were down 3% to £322m, although sales rose 5% to £2.6 billion.
The company said its net debt fell to £421m and the dividend was increased by 3% to 10.3 pence.
The group said the underlying trading outlook for the full 2015-16 year was unchanged. 
It maintained its forecast of a marginal decline in adjusted earnings per share from the 102 pence made in 2014-15.