New figures from the Central Statistics Office show a big drop in the seasonally-adjusted surplus in February from January's record-high level of €4.796 billion.
The CSO said that seasonally adjusted goods exports fell by 7% to €8.758 billion in February compared to January.
Imports rose by 9% to €4.987 billion which resulted in 21% fall in the seasonally adjusted trade surplus to €3.772 billion in February.
The CSO figures show that the unadjusted value of goods exports in February moved 0.5% higher to €8.388 billion compared to the same time last year.
Exports of medical and pharmaceutical products fell by 6% to €2.188 billion in February compared to a year earlier, while exports of electrical machinery and appliances jumped by 155% to €568m and exports of food and live animals increased by 5% to €778m.
Meanwhile, the unadjusted value of goods imports fell by 1% to €4.944 billion in February compared to the same time last year.
The CSO noted that imports of organic chemicals rose by 47% to €362m, while road vehicle imports increased by 30% to €410m. But petroleum imports slumped 32% to €212m on an annual basis.
Today's figures show that the EU accounted for €4.600 billion, or 55%, of total goods exports in February. Of this €1.290 billion went to Belgium and €984m to the UK.
he US was the main non-EU destination as it accounted for 25% of total exports in February.
On the import side, the EU also accounted for 62% of goods imports with 25% of the total - or €1.243 billion - coming from the UK.
The US (13%) and China (7%) were the main non-EU sources of imports.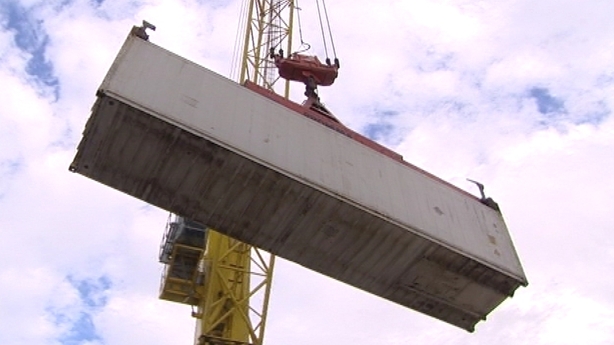 Commenting on today's figures, Merrion economist Alan McQuaid said that the country's trade performance in 2015 benefitted from competitiveness gains made against its main partners and by the weakening of the euro, particularly against sterling and the dollar.
He said that against a difficult global backdrop, the strength of the US and UK economies was clearly a factor here.
"However, with sterling starting to weaken against the euro on Brexit fears and a less favourable Bank of England interest-rate outlook, that could weigh negatively on Irish exports to the UK in 2016," he added.