Ryanair has allocated one plane from its fleet to be used as a corporate jet for part of the year. 
The Boeing 737-700 will be available to lease at a cost of around €5,000 per hour of flying.
Additional costs for airport charges and catering will apply. 
The aircraft is kitted out with full business class seats and has capacity for 60 passengers.
Ryanair's chief executive Michael O'Leary said the airline has received a lot of interest from "big European sports clubs" to book the jet. 
It will be available to lease for around six to seven months in the year.
For the summer season, the jet will be used as a normal passenger aircraft.
Its 60 business class seats will be replaced with 149 traditional seats, with the plane then being flown on busy routes between the UK and Ireland.
Meanwhile, Ryanair chief executive Michael O'Leary said the airline has sustained a financial loss of between €10-€20m as a result of both the terror attacks in Brussels and the recent strikes by French air traffic controllers.
Mr O'Leary said he expects the impact of these events to reduce, but to last into the summer months.
He made his comments as the airline unveiled new improvements under its "Always Getting Better" programme. 
Ryanair said it will focus on digital and inflight developments as it continues to improve its customer experience. 
As part of the third year of the programme, Ryanair has promised lower fares, upgraded aircraft interiors and an improved offering for business passengers.
Ryanair's chief marketing Officer Kenny Jacobs said as it grows the company does not just see itself as an airline, but as "a retailer" as well. 
As part of its brand transformation in recent years, Ryanair has significantly enhanced the digital and mobile aspects of its business, with more than 7.5 million people now using the airline's app. 
The airline also unveiled its first customer loyalty programme in more than a decade, which offers discounts and priority access to seat sales. 
Other initiatives announced today included an auto check-in function, and "Ryanair Schools Travel" - a dedicated travel agency for school tours, on which the airline said it will work together with the Department of Education.
Speaking at the airline's headquarters in Dublin today, Michael O'Leary said it is vital for the UK's economy that the country stays in the European Union.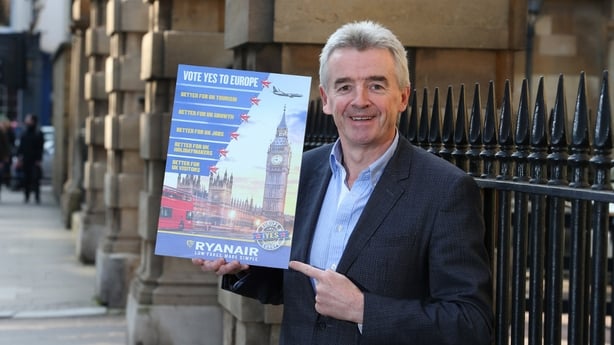 However, he added that the UK leaving the EU would not have much impact on Ryanair's business.
Mr O'Leary also said he believes that in the days leading up to the vote "big companies" will attempt to put pressure on the UK to vote to stay in the EU by threatening to reduce investment and relocate company offices to EU countries.