The Dublin Port Company has paid a dividend of €10.9m to the State following a 6.4% rise in trade volumes last year.
The dividend is up 24% on the amount paid in 2015 and brings to almost €90m the amount paid to the State since 2007.
Dublin Port has also reported a strong start to 2016, with its throughput up 6.8% in the first three months of the year.
The port has seen five million tonnes in imports and 3.4 million tonnes of exports in the period, up 6% and 7.9% respectively.
The biggest parts of Dublin Port's business are Ro-Ro (roll-on roll-off) freight trailers and Lo-Lo (load-on, load-off) containers.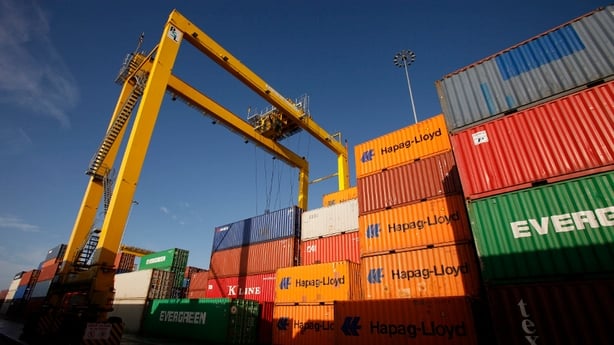 Ro-Ro traffic grew by 7.1% in the first three months of the year to 221,696 units.
Lo-Lo traffic jumped by 11.5% to 163,005 units which the Dublin Port Company said reflected growth in the domestic economy.
The number of passengers and tourist vehicles coming through the port is also higher, with passenger numbers up 2.6% to 284,418 and vehicles numbers increasing by 6.3% to 81,250.
Ferry operators at the port include Irish Ferries, Stena Line and P&O.
The company's chief executive Eamonn O'Reilly said that if the port's growth were to continue at the rate seen so far this year, its throughput would double by 2026.
He said that work has started on the €230m project at the port which will expand its capacity. The project is expected to be finished in four years.
"In light of the continuing high level of growth, we will also this year begin to plan other major masterplan projects which will be required if we are to have the capacity available in time to meet the expected high levels of future growth," Mr O'Reilly added.