One of the faults of journalism, and it has many, is that it often lets the urgent overshadow the important, writes RTÉs Business Editor David Murphy.
One of the biggest threats to life on the planet is climate change.
This country is going to miss its greenhouse gas emissions targets completely and the Government's own plans to address this shortcoming are hopeless.
And that's the view of a State body.
Ireland is supposed to reduce its emissions to 20% below 2005 levels by the year 2020.
Instead the figure is likely to be between 6% and 11%, according to the State's Environmental Protection Agency, which says "current and planned policies and measures are not sufficient to meet the 2020 targets".
The objectives cover areas such as agriculture, transport, residential and commercial sectors (the other areas such as power generation, which eats fossil fuels, are covered by the EU's emissions trading scheme – a system where companies buy credits to increase pollution).
The emission targets are going to be missed because of additional outputs from agriculture but the bigger culprit is transport.
As the economy comes back to life after the financial collapse, the link between increased activity and higher transport emissions has not been broken.
Now is the time to address this problem as Ireland returns to growth. 
The next environment minister needs to have a long, hard look at the sources of our electricity.
Recent figures from the European Commission show Ireland bucked the trend in 2015. Instead of cutting emissions, as the rest of the EU did, Ireland increased them by 5.3%.
Remarkably, 90% of that increase was driven by increased use of the coal-burning Moneypoint plant in Co Clare.
The fossil fuel sources of our electricity are: 45% gas, 21% coal, and 13% peat.    
By far the most dirty and least efficient is peat. It is burned in Edenderry and Shannon Bridge in Co Offaly and Lanesborough, Co Longford.
At present energy users pay a levy of €180m per annum to fund peat burning. That surcharge, called a Public Service Obligation, is due to expire in 2019.
While there would be job losses as a result of shutting the plants, the end of the levy presents a good opportunity halt peat burning.  
The IMF recently calculated the average Irish person is charged €230 per annum to subsidise fossil fuels. Where is the sense in subsidising something that is inefficient and causes pollution?  
Bord na Móna is set to abandon peat in 2030 - but that objective is hardly ambitious.
Another problem is that coal prices have fallen by more than 50% since 2010 which makes it more attractive financially – although it is heavy on CO2 emissions.
The incoming government needs to decide what to do with Moneypoint.
Lobby group Beyond Wind argues that it should be converted to Biomass, but others such as Friends of the Earth say there isn't enough fuel to feed it sustainably and it should switch to gas, which produces less pollution.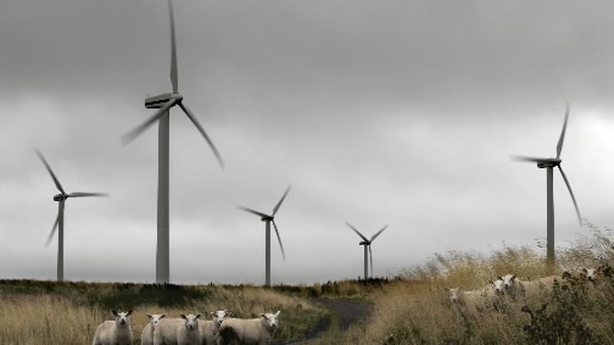 Ireland is supposed to generate 20% of its energy from renewables by the year 2020. While there has been progress, Ireland is likely to miss this target too.
Most of our renewable energy comes from wind and biomass.
Unfortunately turbines are becoming increasingly unpopular and politicians see few votes promoting wind farms.
The wind lobby has failed to win over communities which are going be home to turbines.
There are a lot of big issues for Ireland. Many of them present opportunities for entrepreneurs while others are challenges for traditional industries and those who work for them.
It is sometimes easy to forget how big the issue of climate change is for everyone.
Comment via Twitter: @davidmurphyrte