New figures from the Central Statistics Office show consumer prices fell by 0.3% in March compared to the same time last year on the back of lower prices for fuel as well as clothes and furniture.
The March decrease comes after a 0.1% fall in February.
The CSO figures show that transport costs fell by 5.9% in March on the back of cheaper petrol and diesel prices, as well as a fall in air fares and cheaper cars.
These falls were partially offset by an increase in bus and taxi fares.
On a yearly basis, March also saw lower mortgage interest rates and decreases in the costs of home heating oil, electricity and gas, which were partially offset by higher rents.
Clothing and footwear prices decreased by 2.3% on a yearly basis due to sales.
But car insurance rose by 32.3% at the end of March compared to the same month last year. Health and home insurance costs also rose, while prices in hotels and restaurants also increased.
Today's figures also show that consumer prices in March rose by 0.4% compared to February. This came on the back of more expensive clothing and footwear prices as well as dearer prices in restaurants and hotels.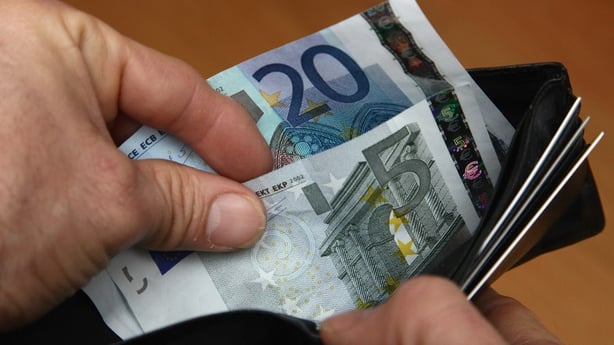 Investec economist Philip O'Sullivan noted that the annual rate of change in the overall consumer price index has been negative in 12 of the past 15 months.
The economist said that "imported" deflation has more than offset upward inflationary pressures from the economic recovery here.
"With Brent crude having improved by 42% from its 2016 lows, we caution that this narrative is unlikely to persist for much longer," he said.
He predicted that consumer prices will rise by 0.6% in 2016 followed by a 1% increase next year.
Commenting on today's figures, Merrion economist Alan McQuaid said that as prices fall into negative territory, some fear that deflation could become entrenched.
"We don't see this as an issue here in Ireland. Indeed, there is "good deflation" and "bad deflation" and what we are seeing at the moment is "good deflation" in our view," Mr McQuaid said.
He said that continued low inflation in the euro zone will mean easier ECB monetary policy being in place for longer.
"Indeed the central bank has indicated that it is ready to act again if needed, though the scope for further rate cuts is limited," he added.