Steve Rowe, the new boss of Marks & Spencer, said he had his work cut out to end five years of almost constant clothing sales falls after reporting another quarterly decline today. 
Rowe, an M&S veteran of 26 years, succeeded Marc Bolland as chief executive of one of the biggest names in British retail on Saturday. 
He moved up from the role he took only last July as the head of the company's troubled Clothing and Home division. 
While Bolland oversaw an impressive performance from M&S's food business, he struggled to improve sales in the clothing division which contributes about 60% of M&S's profit. 
"Turning around our Clothing and Home business by improving our customer offer is our number one priority," Rowe said. 
"Although the sales decline in Clothing and Home was lower than last quarter, our performance remains unsatisfactory and there is still more we need to do," he added.
M&S is due to report financial results for 2015-16 next month and Rowe said he would provide more details on his plans then. 
Today's trading figures showed some encouraging signs, but also the size of the task ahead. For the 13 weeks to March 26, Clothing and Home sales at stores open over a year fell 2.7%. 
That was better than analysts' consensus forecast of a 3.4% decline and a third quarter drop of 5.8%, but it still meant the division has enjoyed just one quarter of like-for-like sales growth in 21 quarters. 
Progress at the food business also stalled. Its like-for-like sales were flat in the fourth quarter, ending a run of 25 quarters of growth in a row.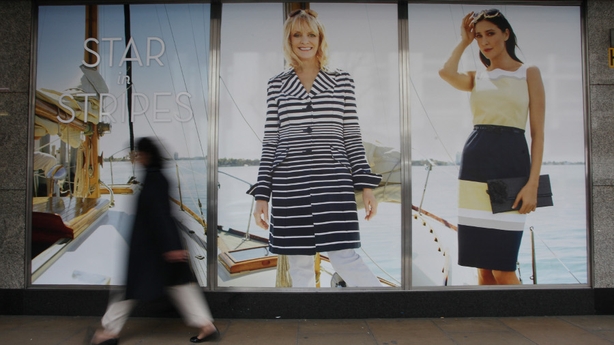 Rowe's biggest challenge is stopping the decline in womenswear sales, which have struggled to compete with Zara and Primark and affordable luxury from chains such as Whistles and Reiss. 
Womenswear has been described by a former M&S executive as "the golden key to the golden door" because of the beneficial effects it has on other parts of the business. 
Having invested billions of pounds with big name designers and high profile launches, M&S said it had seen some improvements across the clothing range, with sales from the Autograph brand up 10%. 
M&S also guided to a rise in full-year gross margin of 240 to 250 basis points at the division, compared with a previous forecast of the top end of 200 to 250 basis points. All other trading guidance was unchanged. 
Shares in M&S have fallen by a quarter over the last year and late last month hit an 18-month low after Simon Wolfson, CEO of rival Next, warned this year could be the toughest since 2008.