Consumer sentiment weakened in March on the back of increased economic uncertainty both at home and internationally, a new index shows today.
The KBC Bank Ireland/ESRI consumer sentiment index fell from 105.8 in February to 100.6 in March.
This brought the index to its lowest level in six months and marked the biggest monthly decline since October 2014.
The three month moving average of the index also fell for the first time since September, confirming a significant change in the mood of Irish consumers last month.
KBC Bank Ireland's chief economist Austin Hughes said that the March results suggest the "fear factor" remains an issue for many consumers.
Three main factors led to the fall in consumer sentiment in March - general concern about the health of the world economy - especially China - the looming Brexit vote in the UK, and the prospect of a prolonged period of domestic political uncertainty.
But Mr Hughes said that while the survey reveals increased concerns about the domestic economy's prospects, it does not signal a collapse in confidence.
"It remains the case that notably more consumers still expect the Irish economy to improve (46% of responses) rather than deteriorate (15% of responses) in the next 12 months," the economist stated.
Mr Hughes said there is little question that uncertainty about the global economy served to counter what continued to be a strong sequence of domestic economic data, including strong jobs numbers and better than expected GDP figures for the end of last year.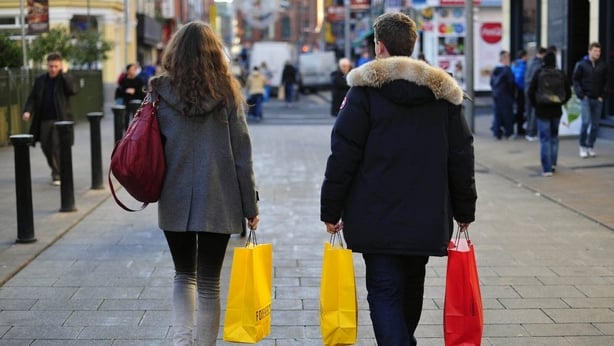 The March index also saw a relatively modest downgrade of consumers' views on their own household finances. "It remains the case that marginally more Irish consumers hold positive rather than negative views of their personal financial circumstances," Mr Hughes stated.
Consumers' spending plans recorded the largest monthly decline since October 2014, as consumers pulled back their plans in response to the threat of more difficult economic times ahead.
"These results suggest consumers are sensitive to the risk of more difficult economic times ahead and this may be reflected in a slightly more cautious approach to 'discretionary' spending in coming months," Mr Hughes said.
The March fall in sentiment also echoes weakness in similar surveys in Europe and the US.