For the three months to February 2016 the number of overseas visitors to Ireland rose by 17.1% to 1,690,400.
The figures from the Central Statistics Office show there was an increase of 247,000 overseas visitors when compared with the same period 12 months earlier.
Residents of Great Britain were the most frequent visitors to Ireland between December and February, increasing year-on-year footfall by 21.2% to 838,800.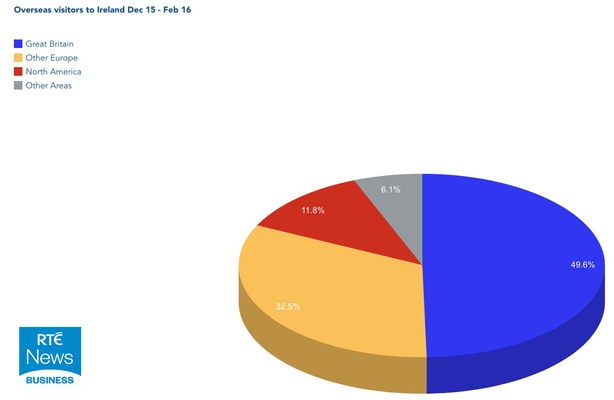 The number of visitors from the rest of Europe was 14.4% higher to 550,000.
The figures indicate trips by residents of North America to Ireland increased by 13% to 199,100 during the period, while trips from 'Other Areas' increased by 8.8% to 102,600.
Meanwhile, the number of overseas trips made by Irish residents between December and February increased by 7.7% to 1,363,000.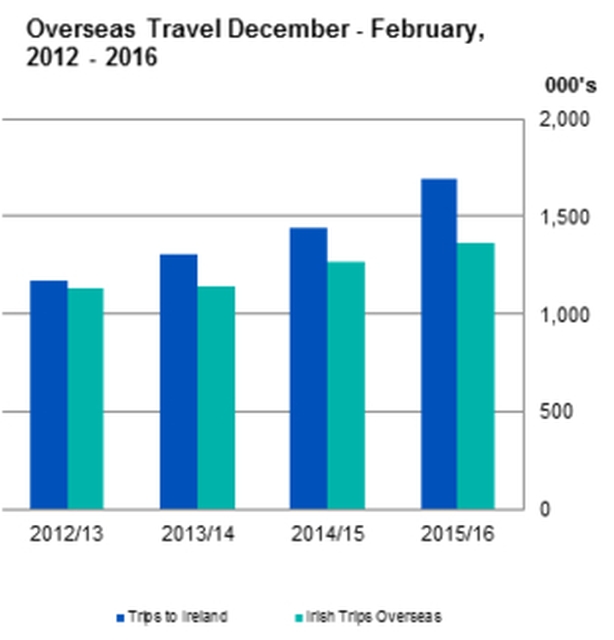 Welcoming figures CEO of Tourism Ireland Niall Gibbons said: "Today's figures represent a very positive start to 2016 - confirming that, for the first time ever, we welcomed more than 1 million visitors in the first two months of the year."
He added: "Our focus now is on surpassing last year's success, to ensure that 2016 is another record-breaking year for overseas tourism. We remain conscious of recent tragic events in Brussels and elsewhere and the potential impact on travel; we continue to monitor the situation."