The volume of retail sales rose by 0.3% between January and February, while there was an increase of 11% year on year, according to latest data from the Central Statistics Office.
Excluding car sales, the monthly increase was 0.2%, while the annual rise was 7.1%.
The most significant increase in February was seen in the 'books, newspapers and stationery' sector (+7.8%), while the biggest falls were in the bars (-2.8%) and electrical goods (-2.4%) sectors.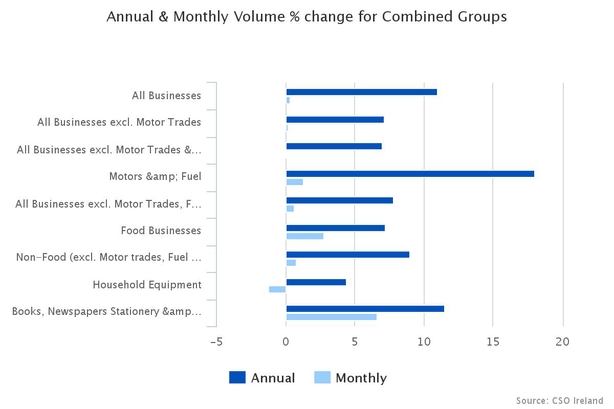 Meanwhile, the value of retail sales dropped by 0.3% between January and February of this year, however, the figure was 8.7% higher than for the same period in 2015.
Taking motor sales away from the calculations, monthly retail sales value in February were 0.4% lower than January, and 4.7% higher year on year.
Commenting on the figures, David McNamara from Davy said: "Today's data point to a strong start to the year for the Irish consumer.
"A flat March would leave retail sales ex-motors up 1.5% quarter-on-quarter in Q1 and 7% yoy."