New figures from the Central Statistics Office show that residential property prices - at a national level - rose by 8% in the year to February. This marked the strongest annual rise in five months.
The February growth compares to year-on-year increases of 7.6% and 6.6% posted in January and December respectively.
Prices were unchanged in February from January, however.
The CSO said that in Dublin, residential property prices decreased by 0.1% in February and were 4% higher than a year ago.
The price of residential properties in the rest of the country rose by 0.1% in February from January.
Prices were 11.5% higher than February last year - the strongest rate of growth since May 2007.
Goodbody economist Juliet Tennett said that affordability pressures, partly due to the macro-prudential rules, are playing a role in pushing some potential homeowners out of Dublin into the surrounding areas.
Today's CSO figures also show that Dublin house prices fell by 0.1% in February but they remained 4% higher than the same time last year. Dublin apartment prices increased by 4.3% compared to February 2015.
House prices outside of Dublin rose by 0.2% on a monthly basis, while they were 11.5% higher on an annual basis.
The CSO figures are based on mortgage draw-downs only, and do not take into account cash transactions.
Property prices nationwide are on average 33.8% below their 2007 peak, but restrictions on mortgage lending introduced by the Central Bank a year ago has slowed down the bounce in prices.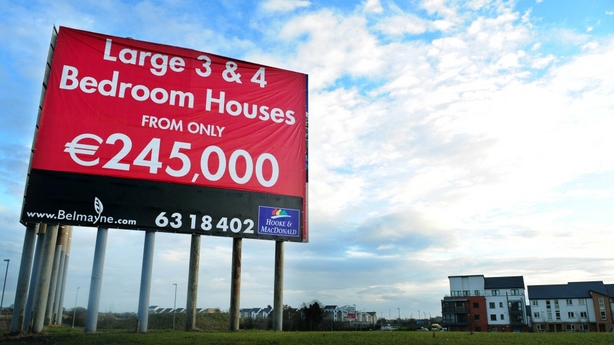 Commenting on today's figures, Merrion economist Alan McQuaid said that a lack of supply of houses has pushed up prices, particularly in the Dublin area in the past three years.
He said that the supply issue is not something that can be rectified overnight. "But, one would expect an improvement on this front over the next year or two, keeping prices down as a result," he added.
"The generally better economic backdrop, particularly in relation to the labour market and better employment prospects should see house price growth remaining in positive territory on a year-on-year basis for a while yet even with credit restrictions and increased planning permissions," the economist said.
"Following an average increase in house prices of 12.9% in 2014 and 10.6% in 2015, we are now looking for a more modest increase of 5% in 2016, with the biggest gains coming outside Dublin," he added.