Latest figures released by the Central Statistics Office show a record seasonally-adjusted trade surplus of €4.98bn for January, representing an increase of €1.1bn on the December 2015 figure.
The surplus for January exceeded the previous all-time high surplus of €4.69bn, which was recorded in August 2012.
The CSO figures show that seasonally-adjusted exports dropped €624m (6.1%) in the month to €9.55bn, while imports fell by €1.7bn (27%) to €4.57bn.
On an unadjusted basis, there was a surplus of €4,37bn in January, which was €1.32bn higher than the surplus of €3.05bn posted in the first month of 2015.
The trade surplus across 2015 was €43.86bn, which is slightly lower from the previous estimate of €44.01bn.
However, the 2015 surplus represents a €12.12bn (38%) increase on the overall positive balance of €31.75bn in 2014.
Last year's surplus was the largest on record and the first positive rise since 2010.
The EU accounted for €5.0bn (56%) of total goods exports in January, with €1.44bn going to Belgium and €985m to Great Britain.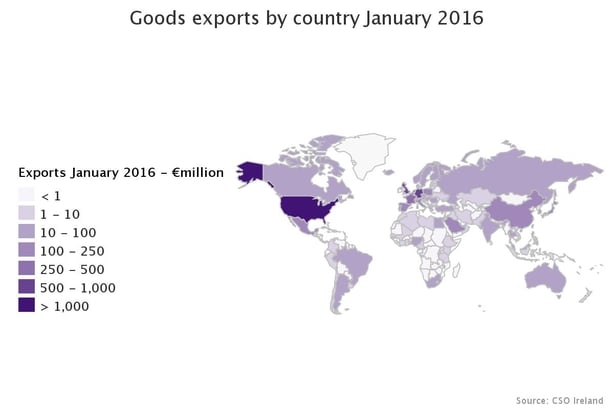 Meanwhile, the USA was the main non-EU destination, accounting for €2.24bn (25%) of total exports in January.
62% of Irish imports in January came from the EU, with €1.17bn (25%) of total imports coming from Great Britain.
The USA with €519m (11%) and China with €315m (7%) were the main non-EU sources of imports.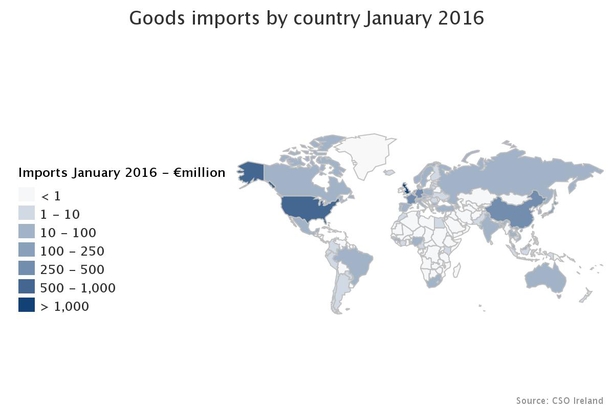 Comparing January 2016 with January 2015, the value of exports rose by €706m (+8.5%) to €8.99bn.
Exports of medical and pharmaceutical products increased by €376m (+18.3%), while exports of office machines and automatic data processing machines rose by €232m (+78.1%).
On the imports side, there was a fall of €615m (-11.7%) in the year to €4.62bn, with organic chemicals down €214m (-45.3%) on an annual basis.
Commenting on the CSO trade figures, Alan McQuaid from Merrion Economics said: "There was very strong growth in Irish merchandise exports in 2015, and we think 2016 will see another robust performance.
"But imports also recorded a healthy rise last year, and despite the disappointing start to 2016, we see them posting strong growth this year.
"This in turn reflects to some degree the pick-up in consumer confidence to 15-year highs and increased personal consumption as a result.
"Ireland's trade performance in 2015 benefitted from competitiveness gains made against its main partners and by the weakening of the euro, particularly against sterling and the dollar.
"Against a difficult global backdrop, the strength of the US and UK economies was clearly a factor here.
"However, with sterling starting to weaken against the euro on 'Brexit' fears and a less favourable Bank of England interest-rate outlook, that could weigh negatively on Irish exports to the UK in 2016," Mr McQuaid added.