UK supermarket group Sainsbury's reported its first quarterly sales increase in over two years, three days before a deadline for it to raise its offer for Argos-owner Home Retail. 
Sainsbury's is the middle of a two-way battle for Argos with South African company Steinhoff International and both suitors have until Friday evening to make a firm offer or walk away. 
Sainsbury's made a cash and shares proposal for Home Retail in February worth £1.3 billion but Steinhoff trumped that offer with a 175 pence per share proposal later in the month valuing it at £1.44 billion. 
Sainsbury's chief executive Mike Coupe was tight-lipped about his next move, beyond reiterating that he will not overpay. 
"It's by no means a must do deal. We've said there's a price and we won't go beyond that," he said. 
Coupe dismissed the suggestion that a failure to land Argos would leave a major question mark over Sainsbury's strategy. 
"You can see from the fourth quarter numbers that the business has moved forward well on a number of fronts," he said. "There's no reason why Sainsbury's wouldn't be a successful business in the future without Argos," he added. 
When it unveiled its takeover proposal on February 2, Sainsbury's said it wanted to buy Home Retail to accelerate its growth by creating the country's largest general merchandise retail business. 
Sainsbury's said sales at stores open more than a year rose 0.1%, excluding fuel, in the nine weeks to March 12, ahead of analyst forecasts in a range of unchanged to down 0.6% and a third quarter fall of 0.4%. 
Sainsbury's has shown greater resilience to competition from German discounters Aldi and Lidl than its big four rivals - market leader Tesco, Asda and Morrisons.
It said it expected the market to remain competitive as food deflation continued to impact sales growth but was confident it would outperform its peers. 
Last week, Home Retail reported improved trading at Argos and said its year-end cash balance would be some £100m above analyst forecasts - factors that will have to be taken into account in any raised offers from either Sainsbury's or Steinhoff.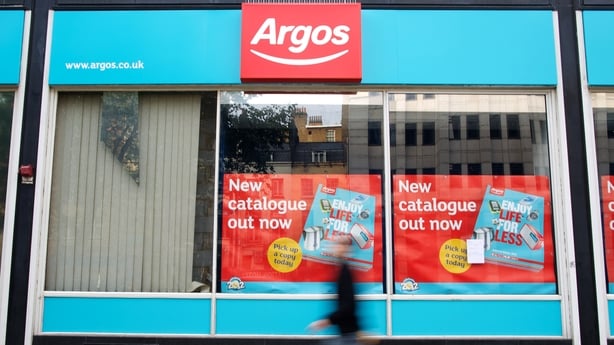 Under UK takeover rules, whichever company bids first triggers a 53-day extension for their rival, effectively creating a game of "chicken" as each weighs up a bid. 
Shares in Home Retail have soared more than 80% since news of a possible bid from Sainsbury emerged on January 5. 
Sainsbury's needs to support its share price, given that more than half its proposed offer is in equity. 
Steinhoff has a retail presence in the UK through Bensons Beds and the Harvey's furniture chain and it is also bidding for French electricals retailer Darty.