Euro zone industrial production grew sharply and by more than expected in January, driven in particular by increased output of capital goods, such as equipment and machinery, the European Union statistics office has said.
Industrial production in the 19-member single currency zone was 2.1% higher in January than in December, Eurostat said, and grew by 2.8% year-on-year.
On a monthly basis, the highest increases in industrial production were registered in Ireland (+12.7%), Estonia (+4.9%), Croatia (+3.2%) and Germany (+2.9%), and the largest decreases in Malta (-5.0%), Romania (-2.3%) and Finland (-2.1%).
Annually, Ireland also recorded the highest increase in industrial production at 42.7%, followed by Lithuania (+10.5%) and Croatia (+9.3%).
The largest annual decreases were in Malta (-8.9%), the Netherlands (-3.9%) and Finland (-1.9%).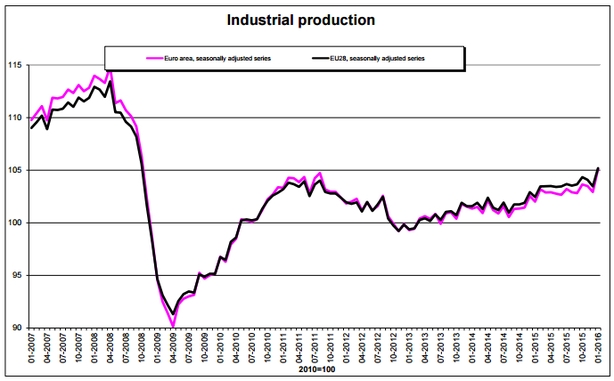 The figures were significantly higher than expectations and followed two months of declines.
Economists polled by Reuters had forecasts a 1.7% month-on-month increase, and an output rise of only 1.4% on a yearly basis.
Eurostat also revised up the December figures, which now showed a monthly output fall of only 0.5% instead of the 1.0% decrease estimated earlier.
Year-on-year, the figure was revised up sharply to a decline of 0.1% from a previous estimate of a 1.3% drop.
Output growth in January was driven mostly by capital goods, an indicator of future industrial investments, which saw a 3.9% monthly rise.
Production increased 2.4% for both energy and non-durable consumer goods.
Output of durable consumer goods, such as fridges or cars, went up 1.3%.
All major economies of the euro zone expanded production in January, compared to the previous month, reversing a two-month negative trend in the euro zone.
In Germany, the bloc's largest economy, industrial output rose 2.9% in January on a monthly basis.
In France production grew 1.4%, and in Italy output by 1.9%.
Buckling the trend, Spain, the fourth biggest economy of the euro zone, experienced a 0.2% industrial output decrease on a monthly basis.