Construction activity increased at its fastest pace in more than 15 years last month, according to the latest Construction Purchasing Managers' Index from Ulster Bank.
New business expanded sharply during the month, which prompted firms to increase their purchasing activity and employment to reach near record levels.
The Ulster Bank PMI, which is a seasonally adjusted index designed to track changes in total construction activity, rose to 68.8 in February from 63.6 in January.
This was the highest reading in the history of the survey, surpassing the previous peak from November 2004.
The PMI indicates there have been consecutive monthly increases in construction activity for the last 28 months.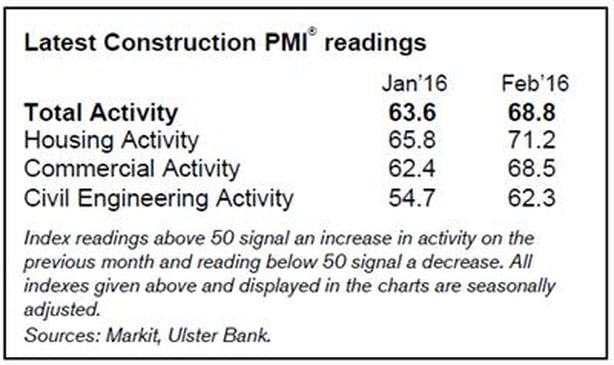 According to the survey, business sentiment also improved to a three-month high, with further improvements in economic conditions predicted over the coming year.
Record growth rates were seen with regard to housing activity, with sharper expansion for residential projects.
Meanwhile, the PMI shows civil engineering activity increased at a much faster rate than in January, and was at its strongest level since August 2006.
Construction firms responded to this increased activity by taking on new employees and the rate of job creation picked up for the second month in a row. The PMI indicates an increase in job growth has been registered in each of the past 30 months.
Commenting on the results, Ulster Bank economist Simon Barry said the record growth rates recorded "need to be seen in the context of what are still extremely low levels of construction activity.
"This point was borne out by last week's national accounts figures which showed that even after three years of recovery at very solid growth rates, construction output is still about 50% lower than pre-crisis peak levels," he added.