US employment gains surged in February, the clearest sign yet of labour market strength that could further ease fears the economy was heading into recession.
This would allow the US Federal Reserve to gradually raise interest rates this year.
Non-farm payrolls increased by 242,000 jobs last month, the Labor Department said today.
The US unemployment rate held at an eight-year low of 4.9% despite more people piling into the labour market.
The US economy also added 30,000 more jobs in December and January than previously reported.
The only blemish in the report was a three cent drop in average hourly earnings, but that was mostly because of a calendar quirk.
Economists polled by Reuters had forecast employment increasing by 190,000 last month and the jobless rate holding steady.
Today's employment report added to data such as consumer and business spending, in suggesting that the economy had regained momentum after growth slowed to a 1% annual rate in the fourth quarter.
Growth estimates for the first quarter are around a 2.5% rate.
Fears of a recession in the wake of poor economic reports in December and slowing growth in China sparked a global stock market rout at the start of the year, causing financial market conditions to tighten.
Financial markets have priced out bets of a rate rise at the Fed's March 15-16 policy meeting and the probabilities for rate increases for the rest of the year remain rather small.
The strong jobs market and improved growth outlook, together with signs that inflation is creeping up, could prompt the Fed to lift borrowing costs in June.
The Fed raised its key overnight interest rate in December for the first time in nearly a decade.
Federal Reserve Chair Janet Yellen has said the economy needs to create just under 100,000 jobs a month to keep up with growth in the working-age population.
While wage growth weakened in February, it was largely payback for January's jump, which was driven by a calendar quirk. Growth in wages is seen accelerating as the labour market settles into full employment.
The drop in average hourly earnings lowered the year-on-year gain in earnings to 2.2%.
Today's figures show that job gains in February were mostly broad-based, though manufacturing and mining employment fell. The services sector created 245,000 jobs after adding 153,000 jobs in January. Mining lost a further 18,000 jobs after shedding 9,000 positions in January.
Mining payrolls have declined by 171,000 jobs since peaking in September 2014, with three-fourths of the losses in support activities. More losses are likely after oilfield services provider Halliburton said last month it would cut a further 5,000 jobs because of a prolonged slump in oil prices.
US manufacturing employment lost 16,000 jobs, reversing some of January's surprise increase. Private education jobs rebounded after plunging in January. Construction payrolls increased 19,000 and government added 12,000 jobs.
US trade deficit widens as exports hit five and a half year low
The US trade deficit widened more than expected in January as a strong dollar and weak global demand helped to push exports to a more than five and a half year low, suggesting trade will continue to weigh on economic growth in the first quarter.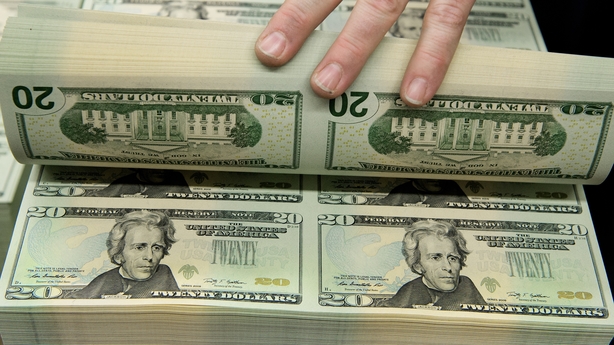 The Commerce Department said the trade gap increased 2.2% to $45.7 billion.
December's trade deficit was revised up to $44.7 billion from the previously reported $43.4 billion. Exports have declined for four months in a row.
Economists polled by Reuters had forecast the trade deficit widening to $44 billion in January. When adjusted for inflation, the deficit increased to $61.97 billion from $60.09 billion in December.
Trade subtracted a quarter of a percentage point from gross domestic product in the fourth quarter, helping to hold down growth to a tepid 1% annual rate.
In January, exports of goods fell 3.3% to $116.9 billion, the lowest level since November 2010. Overall exports of goods and services dropped 2.1% to their lowest level since June 2011.
There were declines in food exports, which were the weakest since September 2010. Industrial supplies and materials exports fell to their lowest level since March 2010. Petroleum exports also fell, touching their lowest level since September 2010.
Exports of non-petroleum products were the weakest since February 2011. Exports to the country's main trading partners fell broadly in January.
Imports of goods fell 1.6% to $180.6 billion, the lowest level since February 2011. Import growth is being constrained by ongoing efforts by businesses to reduce a stockpile of unsold merchandise.
Lower oil prices as well as increased domestic energy production are also helping to curb the import bill.
There were declines in imports of industrial supplies and materials. Car imports were, however, the highest on record.
Meanwhile, the politically sensitive US-China trade deficit rose 3.7% to $28.9 billion in January.