The number of people on the Live Register fell by 2,700 (-0.8%) to 321,000 in February on a seasonally adjusted basis, according to latest data from the Central Statistics Office.
In unadjusted terms there were 319,723 people signing on the Live Register last month. This represents an annual decrease of 35,401 or 10%). 
On a seasonally adjusted basis the number of men on the Live Register in February fell by 1,800 (-0.9%), while the number of women decreased by 800 (-0.6%) over the same period.
Year on year to the end of February, the number of male claimants fell by 25,637 (-11.9%) to 190,248, while female claimants decreased by 9,764 (-7.0%) to 129,475.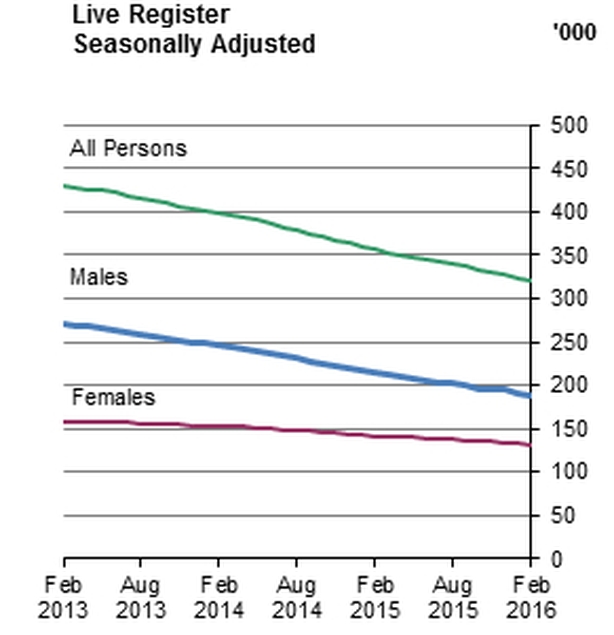 The CSO figures also show that the number of long-term claimants on the Live Register in February was 143,478, while over half (55.1%) of all claimants were short-term ones.
In the year to February the number of people aged 25 and over on the Live Register fell by 26,661 (-8.7%), while the figure for under 25s was 8,740 (-18.0%) lower. 
Moreover, the number of under 25s on the Live Register has fallen every month since July 2010.
25,889 people were newly added to the Live Register in February, consisting of 10,764 Jobseeker's Benefit (JB) claims, 13,962 Jobseeker's Allowance (JA) claims and 1,163 'Other Registrants'. 
Craft and related (19.2%) remains the largest occupational group on the Live Register, despite the fact that the number in the group fell over the year by 9,364 (-13.2%) to 61,540.
---
Explainer: Key terms
What is the Live Register?
The Live Register is used to provide a monthly series of the numbers of people registering for unemployment assistance or for various other statutory entitlements at local offices of the Department of Social and Family Affairs.
What is seasonal adjustment?
Specific movement with regard to figures is affected by many seasonal factors, such as: Summer peaks, one-off strikes, and short-term trading.
The aim of seasonal adjustment is to identify the regular patterns and remove them from a time series leaving only the irregular component. This process is known as filtering and makes comparisons of successive observations more reliable.