Euro zone banks can deal with rock bottom interest rates and actually benefit from the European Central Bank's efforts to prop up growth and inflation, an official said today.
His comments pave the way for more policy easing next week.
ECB executive board member Benoit Coeure acknowledged that bank earnings are weak, which constrains their ability to generate capital.
But he but added that many firms had overcome negative central bank rates and profited from the ECB's easy monetary policy.
The comments from Coeure, one of ECB chief Mario Draghi's top lieutenants, are some of the last guidance offered by the bank before it enters a quiet period ahead of its rate meeting next week, suggesting that arguments for easing remain firmly intact.
They also come on the heels of a warning by Draghi that growth and inflation risks have increased. This was interpreted by investors as another hint at more easing.
The ECB is expected to cut its deposit rate deeper into negative territory on March 10, even though banks have argued that negative rates - a charge on deposits at the ECB - compress their margins.
This limits their ability to lend and making policy easing counterproductive.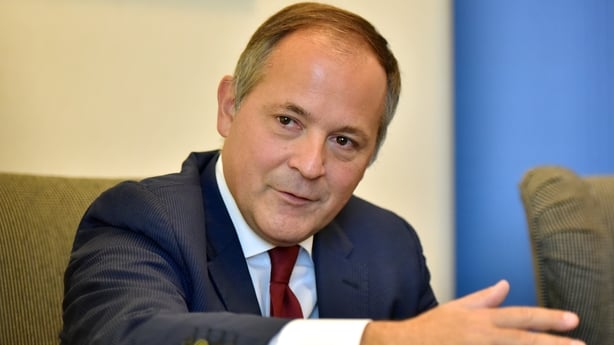 "Many banks have been able to more than offset declining interest revenues with higher lending volumes, lower interest expenses, lower risk provisioning and capital gains," Coeure told a conference in Frankfurt.
"Last year, for example, euro area banks' aggregate net interest income increased, especially as crisis-hit banks refinanced expiring high-yield liabilities," he added.
ECB data released today indicated that the spread between rates on loans and deposits is holding steady at around 240 basis points, down from a high of 285 basis points in 2003 but above a low of 184 in 2012.
Still, Deutsche Bank, one of Europe's top lenders, argued that losses on deposits kept with the central bank are mounting, making lending more expensive and actually holding back growth.
"The biggest fear in the markets is that the main instrument that has been used by central banks to try to generate economic growth has no more strength in it," Deutsche Bank's chief executive John Cryan told a conference.
"One of the big risk factors over our bank is the threat of interest rates becoming more negative. This means charging more for credit. Banks cannot absorb the loss."
Coeure appeared to play down these arguments, suggesting that the biggest problems faced by the sector are actually legacy issues, such as bad loans and poor business models. He added that inaction by the ECB would be more damaging.
"Our commitment to our price stability mandate is vital to anchor expectations of nominal growth," Coeure said. "What would be the costs for the financial sector if monetary policy had not responded?"
Euro area bank shares are down 17% this year, reflecting mounting concerns about profits, capital and bad loans, despite rebounding from their mid-February lows.
Although unconventional monetary policies have undesired side effects, including on bank interest earnings and asset prices, Coeure said meeting the ECB's mandate was still the top priority.
The ECB is fighting ultra low inflation, exacerbated by tumbling commodity prices, and faces a risk that low price growth is perpetuated through the second round effect of low crude prices.
Meanwhile, euro zone inflation will likely turn positive in the second half of the year but the European Central Bank's battle against low price growth is not over, ECB governing council member Francois Villeroy de Galhau said today.
Villeroy said the euro zone was not in deflation, though inflation had turned negative in February, dragged down by tumbling oil prices.
"Once oil prices stabilise, we should see inflation turn slightly positive in the second half of the year," Villeroy said.
He also said that the ECB's governing council would be looking closely for signs whether low oil prices were feeding into the prices of other goods and services when it meets next week to see whether to step up its asset purchase programme aimed at reviving inflation.