US economic growth slowed in the fourth quarter, but not as sharply as initially thought, new figures show today.
US businesses were less aggressive in their efforts to reduce unwanted inventory, which could hurt output in the first three months of 2016.
US gross domestic product increased at a 1% annual rate instead of the previously reported 0.7% pace, the Commerce Department said today in its second GDP estimate.
Economists polled by Reuters had expected that fourth-quarter GDP growth would be revised down to a 0.4% pace.
The US economy grew at a rate of 2% in the third quarter and expanded by 2.4% for the whole of 2015.
US businesses accumulated $81.7 billion worth of inventory in the fourth quarter rather than the $68.6 billion reported last month. The largest contributors to the upward revision to inventory investment were retail trade and mining, utilities and construction.
As a result, inventories subtracted only 0.14 percentage point from GDP growth instead of the previously reported 0.45 percentage point.
The bigger inventory build is bad news for first-quarter GDP growth, though, as it means businesses will have little incentive to place new orders, which will continue to hold down production.
First-quarter GDP growth estimates are as high as a 2.5% rate, but the risks are tilted to the downside amid slowing world economies, a strong dollar and a recent global stock market sell-off that has tightened financial market conditions.
Cheap oil has also been a drag on the profits of oil field companies such as Schlumberger and Halliburton, prompting them to slash capital expenditure budgets.
Today's upward revision to fourth-quarter GDP growth also reflected a smaller trade deficit than initially thought as imports contracted. The trade deficit subtracted 0.25 percentage point from GDP growth instead of the 0.47 percentage point reported last month.
Business spending on equipment contracted at a less steep 1.8% rate last quarter, compared to the previously reported 2.5% rate.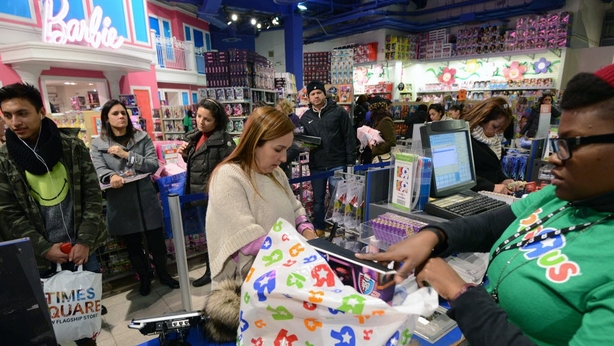 But there was a small downward revision to consumer spending, which accounts for more than two thirds of US economic activity. Consumer spending rose at a 2% pace rather than the 2.2% rate reported last month.
Unusually mild weather hurt sales of winter clothing in December and undermined demand for heating. But there are signs consumption picked up in January with the return to more normal winter temperatures.
With petrol prices around $2 per gallon, a tightening labour market gradually lifting wages and house prices boosting household wealth, the fundamentals for US consumer spending remain quite strong.
Business spending on non-residential structures contracted at a 6.6% rate rather than the 5.3% pace reported last month. Government spending contracted at a 0.1% rate instead of rising at a 0.7% rate, today's figures show.