Royal Bank of Scotland shares slumped to their lowest in more than three years today as the bank reported its eighth full-year loss in a row and said past mistakes would put shareholder payouts on ice until 2017. 
RSB, which owns Ulster Bank here, was once briefly the world's largest bank by assets.
But it has spent the eight years since its £45 billion UK government bailout cutting costs, reorganising its businesses and wading through a series of legal scandals. 
The 300-year-old lender said it now expected a "potentially elongated period" before settling claims that it mis-sold US mortgage-backed bonds before the 2007-09 financial crisis. 
Bracing for one the biggest regulatory penalties in its history, RBS has set aside £3.8 billion ahead of the judgement and said the related costs and provisions meant it was unlikely to resume dividends before the first quarter of 2017. 
Its chief executive Ross McEwan will not take a bonus but his total compensation in 2015 more than doubled to £3.78m due to the maturing of a long-term incentive plan. 
The bank is also grappling with a carve-out of branches under the Williams & Glyn brand, which must be completed by the end of 2017, as a condition of its crisis-era bailout. 
RBS said its restructuring costs rose to £2.9 billion, while litigation and conduct costs soared 63% to £3.57 billion.
It plans to exit 25 of the 38 countries it has a presence in to focus predominantly on the UK and Ireland.
"RBS made progress again in 2015. We ended the year a simpler, stronger bank with a business anchored squarely in the UK and Ireland, focused on retail and commercial markets," Mr McEwan said.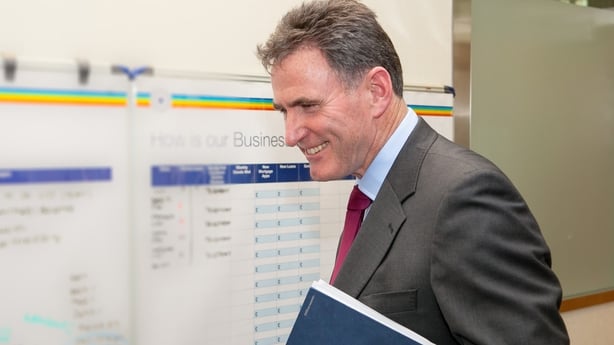 The bank's weak performance and plunging valuation will come as a blow to the UK government, which still owns 73% of the bank, and was expected to begin selling its stake in earnest within 12 months. 
RBS, which has not turned a profit or paid a dividend since its bailout, said it would make a final £1.2 billion payment to Britain's finance ministry to cancel an arrangement that gives the state priority over its dividends. 
It said its full-year loss narrowed by 43% to $2.75 billion and it was targeting operating cost cuts of £800m in 2016. 
"This is an area where we must continue to be disciplined given the uncertain macroeconomic and low interest rate environment our core businesses face," CEO McEwan said. 
The bank expects its pace of growth to help income stabilise in 2016 despite these economic concerns. 
Chairman Howard Davies said the bank was well placed to manage uncertainty stemming from Britain's potential exit from the European Union, but the impact would be unwelcome, having looked hard at what 'Brexit' would mean for the bank. 
The bank said it boosted net mortgage lending by 10% on a year ago to £9.3 billion. 
The firm's common equity tier 1 ratio, a key measure of the assets a bank hold in its reserves, lifted 4.3% to 15.5% over the year.
British finance minister George Osborne sold a 5.4% stake in RBS in August, raising £2.1 billion, but making a £1.1 billion loss on what UK taxpayers had paid for them. 
In January this year, Mr Osborne suspended the government's final stake in Lloyds Banking Group due to market turmoil. UK taxpayers own just under 10% of Lloyds. 
Analysts do not expect any resumption in the sale of government stakes of RBS or Lloyds soon.
RBS said today that its adjusted operating profit fell to £4.4 billion compared with a £6.1 billion profit 12 months ago, reflecting lower income levels as the business sells off units and becomes smaller. 
It sold its final 20.9% stake in US Citizens in October for £1.9 billion. RBS had bought Citizens for £314m in 1988 and turned it into one of the biggest regional banks in the US.