Lloyds Banking Group has posted a drop in annual profits after revealing another £2.1 billion hit for payment protection insurance (PPI) mis-selling.
The lender said the extra charge for PPI took its total bill for the scandal last year to £4 billion.
That left bottom line pre-tax profits 7% lower at £1.6 billion in 2015.
But Lloyds said underlying profits rose 5% to £8.1 billion and confirmed it was sharing out a £353.7m bonus pot among staff, working out at £4,600 per employee on average.
The bank's chief executive Antonio Horta-Osorio has also been awarded a deferred shares bonus worth £449,000.
Mr Horta-Osorio, the group chief executive, has also secured a 6% pay rise to £1.13 million - his first since joining the group in January 2011.
But 4% of the salary rise will only be paid in shares, which will be awarded when the UK government sells its final 9% stake in the group.
Lloyds added its annual staff bonus pot was down from £369.5m in 2014.
Meanwhile, the bank said its shareholders would get a special dividend of 0.5 pence a share, which it said demonstrated its recovery from the financial crisis.
The bank last year paid its first dividend in more than six years, a sign of its recovery from the financial crisis.
It said it would pay an ordinary dividend of 2.25 pence a share, plus a special dividend of 0.5 pence, giving a total payout to shareholders of £2 billion.
The UK government, which held 43% of Lloyds after its rescue, has since cut its stake to around 9%.
But last month finance minister George Osborne put on hold plans to sell at least £2 billion of Lloyds shares to the public this year because of financial market turmoil.
British banks have set aside some £30 billion for the mis-selling of loan insurance, making it the costliest scandal of its kind in British banking history.
The insurance policies were supposed to protect borrowers against sickness or redundancy, but were often sold to those who would have been ineligible to claim. People have until 2018 to claim under regulatory plans intended to draw a line under the affair.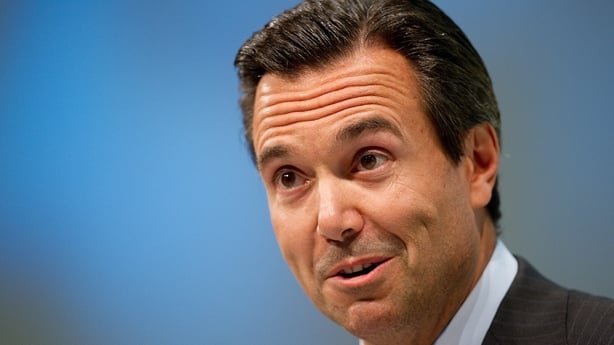 Mr Horta-Osorio shrugged off recent sharp falls in the group's share price amid a wider sell-off in the banking sector on concerns over the impact of a global economic slowdown.
"Our differentiated, UK-focused, retail and commercial business model continues to deliver, with our financial strength, cost leadership and lower risk focus positioning us well in the face of current market uncertainty," he said.
He remained tight-lipped on the bank's position on Britain's vote on European Union membership, saying it was a "matter for the British people".
The group will discuss the June 23 referendum at its upcoming board meeting, he added.