Vienna offers the highest quality of life of all cities in the world, while the Iraqi capital Baghdad, once more, took its place at the bottom of the list compiled by consulting firm Mercer.
The survey of 230 cities helps companies and organisations determine compensation and hardship allowances for international staff.
It uses dozens of criteria such as political stability, health care, education, crime, recreation and transport.
Austria's grand capital on the Danube river, Vienna, has 1.7 million inhabitants who benefit from the city's cafe culture and museums, theatres and operas.
Rents and public transport costs in the city whose architecture is marked by its past as the centre of the Habsburg empire are cheap compared with other western capitals.
Switzerland's Zurich, New Zealand's Auckland, Germany's Munich and Canada's Vancouver followed Vienna - which reached the best position for the seventh time in a row - in the top five of most pleasant cities to live in.
Dublin, in 33rd place, ranks ahead of London (39), Edinburgh (46), Birmingham (53), Glasgow (55), Aberdeen (59) and Belfast (64).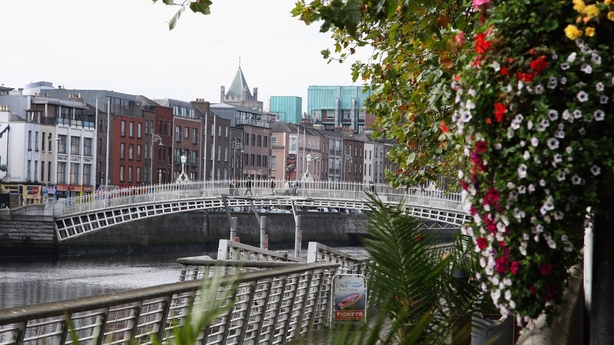 Dublin also ranks ahead of a number of other European capitals such as Paris (37), Lisbon (42), Madrid (52) and Rome (53).
Baghdad was again ranked lowest in the world. Waves of sectarian violence have swept through the city since the US-led invasion in 2003.
Commenting on the results, Consultant at Mercer Ireland Noel O'Connor said: "Dublin ranks higher than London and compares very favourably to a host of other European capital cities.
"Some of the key factors placing Dublin in the top 50 for quality of living worldwide include a stable political environment, lower levels of air pollution and a strong socio-cultural environment."
This year's survey also identifies the personal safety ranking for the full list of cities. The personal safety ranking is based on internal stability, crime levels, performance of local law enforcement, and the home country's relationship with other countries.
Luxembourg tops the personal safety list and is followed by Bern, Helsinki, and Zurich – all tied in second place. Baghdad (230) and Damascus (229) are the world's least safe cities according to the ranking.
Dublin ranks in 30th place for personal safety. The safest UK cities are identified as Aberdeen, Edinburgh, and Glasgow – all ranked in 44th place.
A number of other capital European cities such as Paris (71), London (72), Madrid (84) and Athens (124) rank considerably lower as they suffered either terrorist attacks or social unrest in the last few years.