The number of people in employment at the end of 2015 was 1,983,000, according to new figures from the Central Statistics Office. This is the highest level of employment since the first quarter of 2009.
The Quarterly National Household Survey for the fourth quarter of 2015, published today, shows a rise in the number of people in employment of 44,100 during 2015.
The QNHS is the official measure of employment and unemployment in the state.
However, the figures indicate a slowdown in the rate of increase in employment over the course of the year.
Employment increased by 0.2% in the fourth quarter, compared with a 0.5% increase in the third quarter, 0.8% in the second quarter and 0.7% in the first quarter.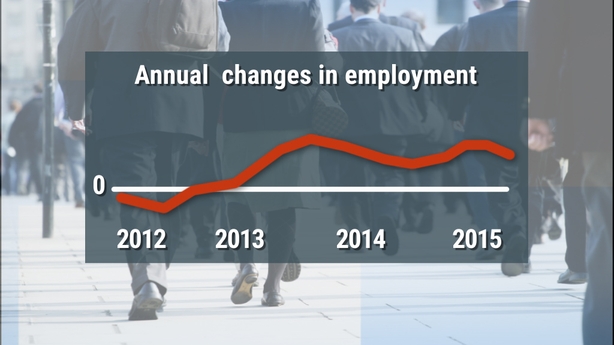 In light of the figures, the CSO has revised up its monthly estimate of unemployment for January this year from 8.6% to 8.9%. For December the rate was revised up from 8.8% to 9%.
Full time employment accounted for 38,900 (+2.6%) of the increase, with part time employment rising by 5,200 (1.2%). Twelve of the 14 sectors of the economy recorded increases in employment.
The biggest gain was recorded by the construction sector, while the biggest decline in employment was recorded in the finance, insurance and real estate sector.
The number of unemployed is officially measured at 187,500, a fall of 26,100 - or 12.2% - during the year.
This is the tenth consecutive quarter in which the measure of seasonally adjusted unemployment has fallen.
The long term unemployment rate has fallen over the year from 5.8% to 4.7%.
More than half of those recorded as unemployed are in the long term unemployment category, meaning they have been unemployed for more than a year.
Long term unemployed make up 54.5% of the unemployed, down from 57% over the year.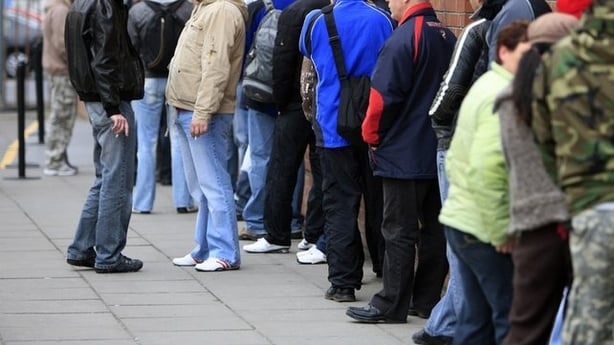 Today's figures also show that the number of people in the workforce increased by 18,000 to stand at 2,170,500, an increase of just under 1%.
The number of people not in the labour force fell by 1,300 (0.1%) to stand at 1,448,000.
The seasonally adjusted unemployment rate fell during the fourth quarter to 9.1%, the CSO added.
Commenting on today's figures, Merrion economist Alan McQuaid noted an average increase in the numbers at work last year of 50,100, up from 32,800 in 2014.
The economist said that the country's employment prospects look very good again in 2016 due to the strong economic recovery, with another net increase of 50,000 forecast.
"As regards unemployment, we are now looking for an average jobless rate this year of 8.5% as against 9.4% in 2015," he added.