German business morale fell for a third month in a row in February to reach its lowest level in more than a year.
The outlook among German manufacturing firms plunged by the steepest amount since shortly after the bankruptcy of Lehman Brothers in 2008. 
The data from the Munich-based Ifo economic institute pushed the euro to three week lows against the dollar and deepened concerns about the strength of Europe's largest economy.
The German economy has suffered from a drop in demand from struggling emerging markets in Asia and Latin America. 
"The majority of companies were pessimistic about their business outlook for the first time in over six months," Ifo President Hans-Werner Sinn said in a statement. 
"German businesses expressed growing concern, especially in manufacturing," he added.
The closely-watched business climate index fell to 105.7 in February from 107.3 last month to reach its lowest level since December 2014. 
The drop was led by a decline in business expectations, which fell sharply to 98.8 from 102.3 in January, reflecting concern in German boardrooms about market turmoil and a slowdown in emerging markets, particularly in China. 
A separate index for current conditions rose to 112.9 from 112.5 last month.
Business expectations in the manufacturing sector fell by their largest amount since November 2008, two months after the bankruptcy of US investment bank Lehman Brothers shook financial markets, triggering a global economic crisis.
German companies have been relying on a robust US economy to offset falling exports to China, Brazil and other emerging markets.
Germany reports record surplus for 2015
Earlier figures showed that Germany ran up a record surplus in its public finances in 2015, with Europe's biggest economy showing "solid and consistent" growth last year. 
Germany notched up an overall surplus of €19.4 billion on its public budgets last year, "which in absolute terms is the highest since unification" in 1990, the federal statistics office said in a statement. 
Measured against gross domestic product (GDP), the surplus amounted to 0.6% of overall output, the statisticians calculated. 
In 2014, Germany had achieved a surplus of €8.9 billion or 0.3% of GDP.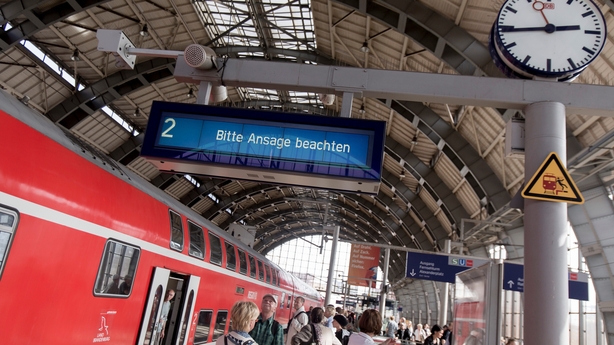 Under euro zone rules, member states are not allowed to run up deficits in excess of 3% of GDP and are obliged to bring them into balance or surplus in the medium term. 
Last year was the second year in a row that Germany's public finances have been firmly in the black.
At the same time, the statistics office confirmed a preliminary estimate that the economy expanded by 0.3% in the fourth quarter of last year, the same rate of growth as in the third quarter. 
"The economic situation in Germany in 2015 was characterised by solid and consistent growth," the office said. 
Across the whole year, GDP grew by 1.7%. 
"Positive impulses came primarily from domestic demand," Destatis said. 
Public spending increased by 1% in the fourth quarter and household spending edged up by 0.2%. 
In addition, investment increased with construction investment expanding by 2.2% over the three-month period and investment in equipment rising by 1%, driven mainly by public investment. 
By contrast, foreign trade had a dampening effect on fourth-quarter growth with exports falling by 1.7% and imports slipping by 0.6%, Destatis calculated.