China's consumer inflation quickened to a five-month high in January due to rising food prices.
But Chinese producer prices shrank for a 47th month in a row as falling commodity markets and weak demand add to deflationary pressure in the world's second-largest economy.
China's consumer price index rose 1.8% in January from a year earlier, slightly less than market expectations and up from a 1.6% increase in December, data from the National Bureau of Statistics showed today.
But the slight increase was mainly due to a 4.1% seasonal rise in food prices before the long Lunar New Year celebrations.
The rise did not imply any visible improvement in economic activity and broader consumer demand, analysts said.
Indeed, non-food consumer inflation remained muted, growing 1.2% in January on-year, up only slightly from December.
The price data also showed further signs of strain on Chinese companies, particularly in the mining and processing sectors, as sluggish demand and fierce competition force them to repeatedly cut their selling prices.
China's producer price index (PPI) fell 5.3% in January from a year earlier, slightly less than expectations of a 5.4% decline and easing from 5.9% fall in December.
Lingering worries of deflation have reinforced economists' views that the government and central bank will have to roll out further stimulus measures this year to spur the economy, which grew last year at its slowest pace in a quarter of a century.
Chinese producers have seen their selling prices fall for nearly four consecutive years, reflecting sliding commodity prices, sluggish demand at home and overseas and overcapacity in key sectors including steel and energy.
Industrial profits fell for a seventh month in a row in December, and were down 2.3% in 2015.
Many firms in the industrial sector also face very high refinancing costs in real terms, which have helped fuel bond defaults and an increase in bad loans.
Consumer prices have held up better, reflecting the relative strength of the labour market, but analysts have been watching closely to see whether weakness in the industrial sector and anaemic global trade will start to be felt more strongly in wages and income growth this year.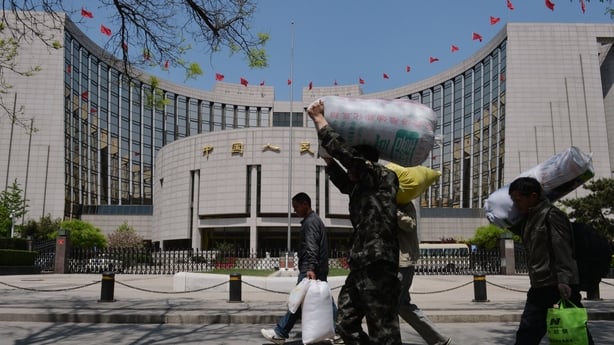 However, People's Bank of China officials have indicated that they are wary of further broad-based monetary easing such as interest rate cuts, which could help boost activity but spur higher capital outflows and put more pressure on the yuan.
The PBOC has cut interest rates six times since November 2014 and RRR rates several times, but has held off on further reductions since late October, preferring to rely on short-term money market injections instead.
Other China data for January painted a mixed picture, with much weaker-than-expected exports and imports suggesting a further loss of economic momentum.
However far stronger new bank loans, which swelled to a record 2.5 trillion yuan ($383.6 billion), offered some hope of a pick-up in activity and prices later in the year.