Irish exports increased by just under 20% (€18.4bn) last year to over €111bn, when compared with 2014.
Medical and pharmaceutical products accounted for 27% of total exports in 2015, rising by nearly €8bn (+36%) to over €30bn.
Exports of food and live animals and beverages and tobacco to the USA totalled €758m in 2015, an increase of €255m (+51%) compared with 2014.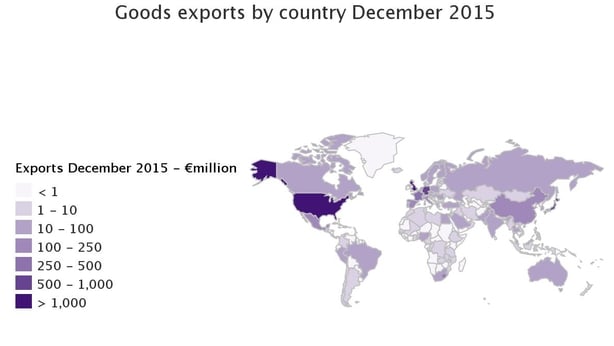 The data from the Central Statistics Office also shows that Ireland recorded a trade surplus of slightly more than €44bn for 2015, which is the largest surplus on record.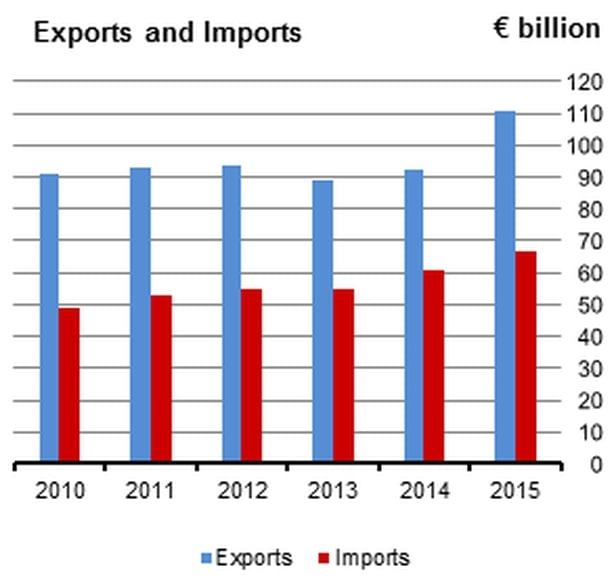 Meanwhile, imports into Ireland in 2015 grew to €67bn, an increase of €6.1bn (+10%) over 2014.
Imports of chemicals and related products accounted for nearly €14bn (21%) of total imports last year, a rise of €2,48bn (+22%) on 2014.
€3.4bn worth of road vehicles was imported in 2015, representing an annual increase of €859m (+33%).
Imports of machinery and transport equipment from the USA fell by €498m (-10%) in 2015 compared with 2014, while imports of these products from China increased by €567m (+34%) over the same period.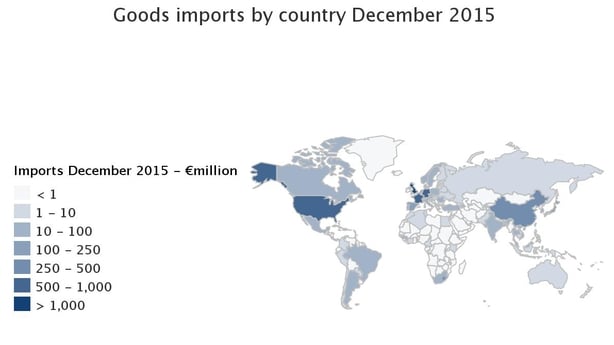 Commenting on the figures, Alan McQuaid from Merrion Economics said: "Ireland's trade performance in 2015 benefited from competitiveness gains made against its main partners and by the weakening of the euro, particularly against sterling and the dollar.
"Against a difficult global backdrop, the strength of the US and UK economies was clearly a factor here.
"However, with sterling starting to weaken against the euro on 'Brexit' fears and a less favourable Bank of England interest-rate outlook, that could weigh negatively on Irish exports to the UK in 2016," he added.