A drop in bank shares kept European shares under pressure today, after steep losses in Asian markets and on Wall Street overnight sent investors scurrying for safe havens. 
In see-saw trade, London's FTSE index closed 1% lower, while the Frankfurt DAX had lost 1.39% and the Paris CAC dropped 1.69%.
The Paris and Frankfurt exchanges had lost more than 3% yesterday, London gave up close to 3%, while Milan slumped almost 5% and Athens around 8%.
Dublin's ISEQ index also quickly reversed its slight opening gains and eventually closed down 0.48%.
The volatility in stocks has also spread to the currency markets, and the euro gained nearly 1% against both the US dollar, and 0.7% against the British pound.
Shortly after 6pm €1 was worth $1.13 and £0.78.
More than €4 billion was wiped from the value of Irish shares yesterday as the ISEQ sank 5.4% - its worst performance since August 2010.
Earlier in Asian trade, Tokyo shares tumbled 5.4%, extending a global sell-off as a stronger yen dented exporters and after oil prices tanked again on fears of a deepening economic slowdown.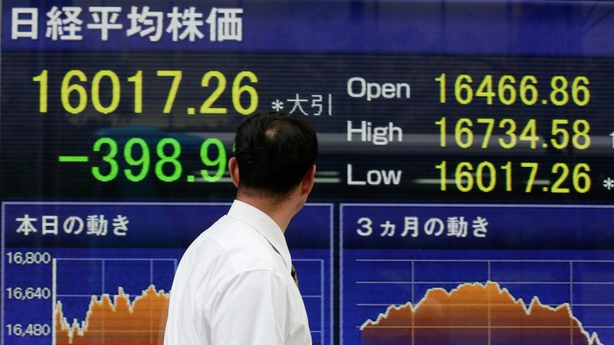 Meanwhile, Wall Street stocks are slightly down in afternoon trading in the US.
They had finished sharply lower last night, joining that European equity rout, as fears of an economic slowdown weighed especially hard on financial and technology shares. 
Stocks and commodities have seen to a terrible start to the year so far, reflecting the increasingly gloomy outlook from policymakers - particularly for the world's second biggest economy and key driver of world growth, China.