The number of new private cars licensed for the first time rose by 34.8% in January of this year compared to January 2014.
New figures from the Central Statistics Office show that 27,106 new cars were licensed for the first time in January, compared with 20,105 for the same time in 2015.
The most popular car manufacturer was Toyota with 3,666 new cars licensed. Next was Hyundai at 3,405 cars, followed by Ford (3,351), and Volkswagen (2,368).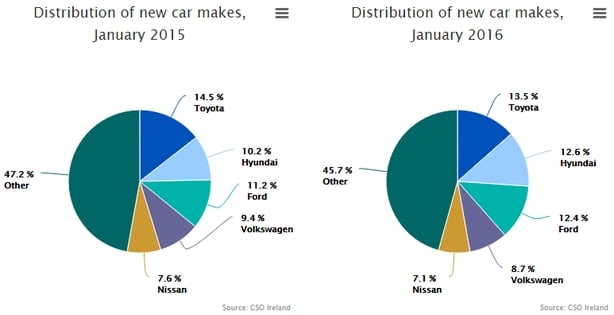 Toyota's market share has fallen 1% to 13.5% from last January, while Hyundai's is 2.4% higher at 12.6%.
Volkswagen registered a 0.7% drop in its share from January 2015, down to 8.7% last month.
Meanwhile, there was a 3.8% drop in the number of second-hand cars being imported into Ireland last month, with the figure at 3,848.
The number of new goods vehicles licensed in January also increased compared to the beginning of last year, with a 36% rise to 2,789. Some analysts view this as a good sign of economic growth.
The total number of all new vehicles licensed during January was 31,150, compared with 23,152 during the same month in 2015 – representing a rise of 34.5%.