BP slumped to its worst annual loss in over 20 years in 2015, the oil and gas company said today, adding that it would cut thousands more jobs in the face of a deep rout in oil prices.
The company, which is still grappling with the huge costs from the deadly 2010 Gulf of Mexico oil spill, said it would cut 7,000 jobs by 2017, nearly 9% of its workforce.
BP shares fell on the news, closing down 8.68% in London trade.
BP maintained its dividend at 10 cents per share but the weak results and outlook are bound to pile pressure on the company which has had to increase borrowing.
It reported a 2015 loss of $6.5 billion, even worse than its 2010 results when it counted the costs of the Gulf of Mexico oil spill for which the total bill for criminal and civil penalties and clean-up costs reached around $55 billion.
Fourth-quarter underlying replacement cost profit, BP's definition of net income, came in at $196m, significantly below analysts' expectations of $730m.
BP's results are the latest in a round of weak fourth-quarter earnings in the sector.
Chevron, the second biggest US producer, last week reported its first quarterly loss in more than 13 years, while Royal Dutch Shell was expected to report a near halving of profits.
Benchmark Brent oil prices averaged $43 a barrel in the fourth quarter of 2015, down from $76 a year earlier.
The industry's worst downturn in three decades is set to persist with Brent averaging around $33 per barrel in 2016 so far.
A 70% slide in oil prices since mid-2014 has forced the oil and gas sector to cut tens of thousands of jobs and make deep spending cuts.
BP said its 2015 capital spending totalled $18.7 billion, down from a planned $24-$26 billion. The company said it expected its 2016 capex to be at the lower end of a range of $17-19 billion.
The sector is set to slash spending to its lowest in six years in 2016 to $522 billion, following a 22% fall to $595 billion in 2015, according to analysts. It will mark the first time since 1986 that the industry has cut spending for two consecutive years.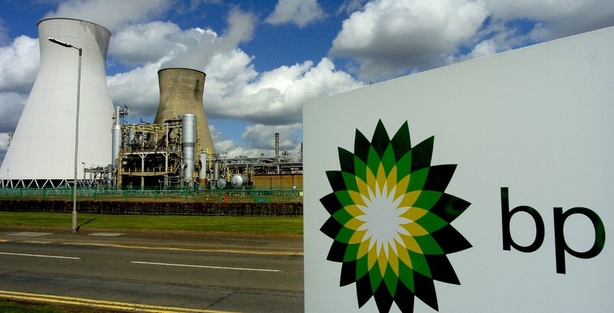 BP in 2015 reduced operating costs by $3.5 billion and said it expected savings to reach $7 billion by 2017.
It said it would cut 3,000 jobs in its downstream unit by the end of 2017 on top of 4,000 cuts already announced in oil and gas production as part of a $2.5 billion restructuring programme announced last year.
"We are continuing to move rapidly to adapt and rebalance BP for the changing environment," chief executive Bob Dudley said in a statement.
BP earlier this week announced the appointment of Lamar McKay as deputy chief executive in a reshuffle aimed at simplifying top decision making.
The company said that if the current downturn persists for longer than anticipated, it would be able to further reduce its costs to allow its balance sheet to break even below $60 a barrel.
"Should current conditions persist for longer than anticipated, we expect that all the actions we are taking will capture more deflation," its chief financial officer Brian Gilvary said in a statement.
Like many of its peers, BP has tapped the debt market in order to plug the gap in income to cover spending and dividend payouts.
BP said it intends to maintain its debt at current levels. Its debt ratio stood at 21.6% at the end of 2015.
Fourth-quarter impairments reached $2.6 billion as its oil and gas production division was hit by weak energy prices, including fields in the Gulf of Mexico, the US Utica shale acreage in Ohio and Libya.