The Bank of Japan unexpectedly cut a benchmark interest rate below zero today.
The move stunned investors with another bold move to revive the economy as volatile markets and slowing global growth threaten its efforts to beat deflation.
Asian shares jumped and the yen tumbled after the Bank of Japan said it would charge for a portion of bank reserves parked with the institution, an aggressive policy also adopted by the European Central Bank.
European markets were also higher today after the Bank of Japan's move, with shares in London, Paris and Frankfurt up between 0.5% and 1%.
"The BOJ will cut the interest rate further into negative territory if judged as necessary," the bank said in a statement announcing the decision.
In adopting negative interest rates Japan is reaching for a new weapon in its long battle against deflation or widespread falling prices, which since the 1990s have discouraged consumers from buying big or frequently because prices tend to fall.
Deflation is seen as the root of two decades of economic malaise.
The bank's Governor Haruhiko Kuroda had said as recently as last week that the bank was not thinking of adopting a negative interest rate policy for now.
He told the Japanese parliament that further easing would likely take the form of an expansion of its massive asset-buying programme.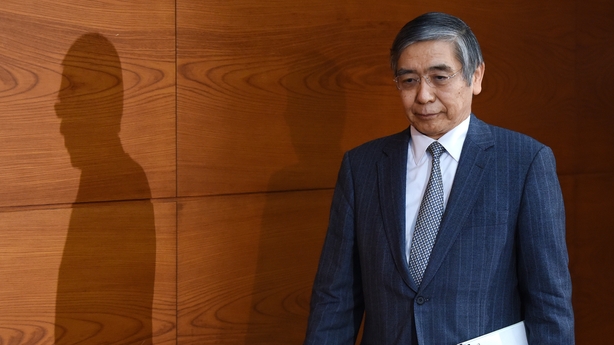 But in a narrow 5-4 vote, the BOJ's policy board decided to charge a 0.1% interest on selected current account deposits that financial institutions hold with it.
The central bank said the move was aimed at forestalling the risk of global financial turbulence hurting business confidence and reviving the "deflationary mindset" it has been striving to banish with aggressive money printing.
Several European central banks have cut key rates below zero, and the European Central Bank became the first major central bank to venture into negative territory in June 2014.
By adopting a negative interest rate, the central bank hopes banks will step up lending to support activity in the real economy, rather than pay a penalty to deposit excess cash at the Bank of Japan.
There is little sign of any pent-up demand from Japanese banks or cash-rich companies for fresh funds, and any money released into the system may merely be hoarded or steered into speculative activity such as betting on stocks.

The Bank of Japan also maintained its pledge to expand base money at an annual pace of 80 trillion yen ($675 billion) via aggressive purchases of Japanese government bonds and risky assets conducted under its quantitative and qualitative easing programme.

Markets have been split on whether the central bank would ease policy as slumping oil costs and soft consumer spending have ground inflation to a halt, knocking price growth furtheraway from the BOJ's ambitious 2% target.
This is the fourth time the Bank of Japan has pushed back its timeframe for hitting its inflation target - from an initial goal of around March 2015.
The surprise interest rate decision came in the wake of data that showed household spending and output slumped in December, underscoring the fragile nature of Japan's recovery.
Analysts point out that the bank's room for further manoeuvre with its QQE programme was limited because it was quite simply running out of assets to buy.
Japanese consumer inflation was just 0.1% in the year to December, invigorating expectations that the Bank of Japan would eventually have to deliver further stimulus.
Many BOJ policymakers have been wary of using their diminishing policy tools to counter what they see as factors beyond their control, such as volatile financial markets and China's economic slowdown.
But pessimists on the bank's board have worried that slumpingTokyo stocks may discourage firms from boosting capital expenditure, threatening the positive momentum the bank is trying to create with its heavy money printing.