BG Group shareholders have overwhelmingly approved Royal Dutch Shell's $52 billion takeover, clearing the way for the two firms to create the world's biggest trader of liquefied natural gas (LNG).
BG will now merge with Shell on 15 February.
The merger comes nearly two decades after the company was born from British Gas and just a few months after it reached record oil and gas output thanks to new projects in Australia and Brazil.
At a meeting in London, 99.53% of BG shareholders voted in favour of the merger, a day after 83% of Shell's shareholders approved the deal first announced on 8 April last year.
Shell shareholders are putting their faith in CEO Ben van Beurden's decision to focus the Anglo-Dutch company's operations in LNG and deep water oil production over the coming decades as the industry undergoes one of its worst downturns in decades.
Low oil prices will remain a challenge for the combined company in the short term, however, as crude has fallen 75% over the past 18 months to around $30 a barrel.
While the oil price is expected to stage a gradual recovery, Shell has said the combined group needs crude to be above $60 a barrel to break even.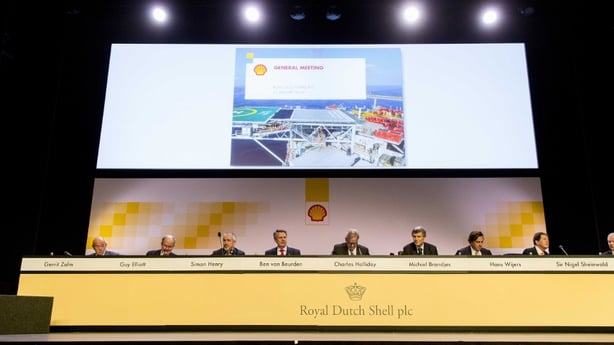 "I very strongly believe in what Shell is trying to do long term ... The idea that they try to specialise in their strengths being deepwater and LNG is absolutely the right thing to do," BG Chairman Andrew Gould told reporters.
BG chief executive Officer Helge Lund, who joined BG weeks before the merger was announced, is set to step down. Shell executive Huibert Vigeveno, who headed the integration planning in recent months, will become transitional CEO.
Mr Lund, who previously led Norway's Statoil through a period of spectacular growth, has yet to indicate his plans.
The acquisition will boost Shell's oil and gas production by 20% and bring it closer to challenging the world's top international oil company ExxonMobil.
Combined, Shell and BG will overtake Chevron as the world's second-biggest publicly-traded oil and gas company measured by market value.
The combined company is also set to topple Exxon as the largest publicly-traded oil and gas producer by 2020, according to analysts at Simmons and Company.
Once the two companies merge, Shell will start a complex integration process that will include thousands of job cuts, tens of billions of dollars in asset sales and the harmonising of the companies' trading and production operations as they overlap in many parts of the world.
Shell has promised to find $3.5bn from cost savings and overlaps by 2018, from various areas including its corporate, administrative and IT operations.
BG was created in 1997 when British Gas split into two separate companies. In 2000, another change saw the creation of BG Group, focused on international oil and gas production.