The High Court has appointed a provisional liquidator to the Xtra-vision movie rental chain.
The bulk of the 580 full and part-time jobs at the company are likely to be lost, Mr Justice Paul Gilligan heard.
The company's owners, UK-based Hilco Capital, petitioned the court for the appointment of Michael McAteer of Grant Thornton Ireland as the provisional liquidator of Xtra-vision Entertainment Ltd.
The company operates more than 80 outlets in both the Republic and Northern Ireland, and related company Xtra-vision Ireland Ltd, which owns the stock.
Mr Justice Gilligan, who described the situation as unfortunate, appointed Mr McAteer after being told the movie rental firms were insolvent and unable to pay their debts.
The company cited the rapidly declining movie rental market and poor Christmas sales as the reasons why it is seeking to go into liquidation.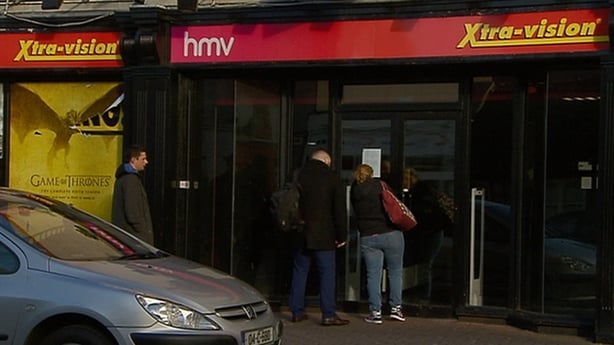 The appointment of a provisional liquidator would aid the orderly winding up of the company, the court heard.
Edward Farrelly, BL for Xtra-vision, said the appointment of a liquidator would result in some of the jobs being saved but it was accepted that most of the company's employees would have their employment terminated.
He added that any gift vouchers issued by the company will be honoured.
Xtra-vision was sold by to Hilco Capital Ireland in June 2013 for an undisclosed sum. In August of that year, Hilco also announced that 26 Xtra-vision stores would be dual-branded with HMV.
The company was formerly owned by US giant Blockbuster. In 2009 Blockbuster sold off the chain to Birchhall Investments. In May 2011 the company went into examinership but successfully exited in August of that year.
A note placed in the window of an Xtra-vision store in Waterford today announced the appointment of the liquidator.
In a statement, Grant Thornton said their "first priority is to meet and brief employees at all 83 locations and process their entitlements for redundancy.
"Over the coming days we will be in contact with all creditors of the company however, it is important to note that any Xtra-Vision gift vouchers will be honoured by HMV which is not affected by this liquidation."