Grocery giant Tesco has confirmed it is seeking to cut pay and conditions for longer-serving staff in their Irish operation. 
It is understood that staff with more than 20 years service have been approached to sign new contracts that would see their pay reduced. 
The move would affect about 1,000 - 6% - of the company's 14,500 employees.
Tesco has been facing difficulties for some time, and last April it posted its biggest ever loss of about €9 billion.
In 1996, Tesco negotiated a contract with the Mandate trade union governing pay and conditions here. At that time, the company did not operate the extended hours on Sundays and late nights that currently apply. 
In 2006, it renegotiated the "modern" contract which took account of longer working hours and changing retail patterns. 
The supermarket giant is now seeking to transfer 1,000 longer serving staff from the 1996 "inflexible" contract to the modern "flexible" contract to ensure that staff can be rostered to meet peak customer traffic..  
The company said that no-one in management will be affected by the cuts, as they are already on flexible contracts. 
Tesco acknowledges that the staff affected will suffer a drop in pay and conditions, but said they cannot yet calculate the extent of the cut because of variable factors like overtime.
However, a spokesperson stressed that in their negotiations with unions over the coming weeks, they will address the issue of compensation. 
The company said that on the modern contract, staff are paid €11.97 an hour plus a range of benefits - including pensions and an employee discount. 
They also stress that they are not seeking job cuts, and that they do not operate precarious "if and when" contracts of employment.  
Last May, the company cut the €250 Christmas bonus for staff. 
While the company stressed that it is not targeting job cuts, Mandate voiced fears that the new contract could be so onerous as to prompt early retirements.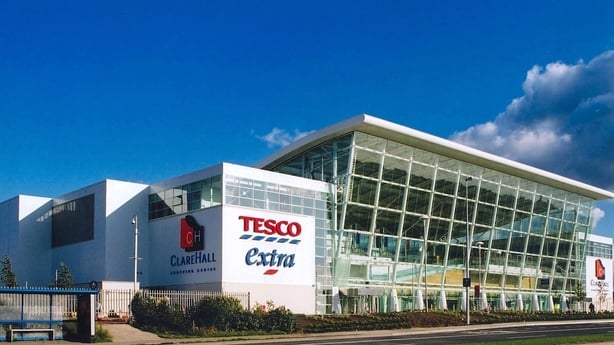 Assistant General Secretary Gerry Light accused the company of seeking to force older staff out. 
He said that with Tesco controlling 24% of the retail grocery market, it had to be making profits, but noted that the company refuses to reveal the scale of profits in its Irish operation.
Separately, Mandate has submitted a pay claim for a 3% increase over 12 months backdated to last March.
Gerry Light said staff earning no more than €13 an hour should not be paying the price for the corporate decisions that led to the company posting its biggest ever loss last year. 
After two decades of growth, Tesco lost its way in the last few years as it found itself distracted by an expensive overseas expansion strategy when it needed to respond to the rise of discount grocers Aldi and Lidl.
              
It reported an annual loss of £6.4 billion in April, one of the biggest in British corporate history.
The company is also dealing with the fallout of an accounting scandal, which led to the departure of several of its top executives. 
A UK Serious Fraud Office investigation is ongoing into the company's £263m profit over-statement, first revealed in September 2014.