Investment bank Credit Suisse is opening a trading floor in Dublin and will hire up to 100 staff here before the end of the year.
The bank is moving part of its Prime Services business, which works with large institutional clients which are investing and trading financial markets, from London to Dublin.
The new positions include 40 trading, risk and capital professionals and 60 support roles.
The bank said that the new Dublin operation will handle the trading, capital and risk management for the business while the salespeople and relationship managers will remain in London due to client proximity.
Credit Suisse chief executive of global markets Tim O'Hara said the company would be recruiting staff skilled in risk management, lending and information technology.

The moves comes after the Central Bank said in December that it had authorised the bank to establish a branch in Ireland. The branch will be located at Kilmore House in Spencer Dock in Dublin's IFSC.
Tim O'Hara said the broad talent pool and efficiencies that Dublin has to offer made the decision to deploy operations here an "easy one".
"We have long admired Ireland's commitment to and vision for the country's future as a European financial services centre and we are excited to establish our Prime Services business here," he added.
The project is supported by the Department of Jobs through IDA Ireland.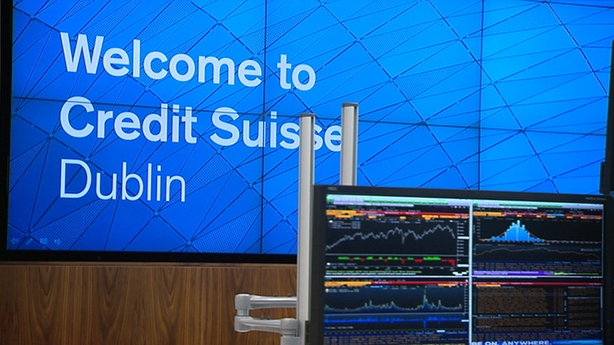 IDA Ireland's CEO Martin Shanahan said the news was a very significant announcement in terms of the development of international financial services in Ireland.
"Trading activities have traditionally been exclusively associated with the larger global financial centres and the fact that one of the leading global prime brokers has now selected Dublin as a key hub for this business going forward is highly significant in our view," Mr Shanahan said.
He added that Credit Suisse will greatly enhance the strong cluster the city has already built up over many years.