European Central Bank President Mario Draghi has said the bank had plenty of instruments at its disposal to push inflation higher and was both determined and willing to act to fulfill its mandate.
"We have plenty of instruments and especially we have the determination and willingness and capacity of the Governing Council to act and deploy these instruments," Draghi said.
He made his comments at the World Economic Forum in Davos today.
The ECB chief said that the outlook for a gradual economic recovery in the euro zone had not changed and was likely to be supported by increased government spending on absorbing refugees.
Yet the outlook for inflation was still well under the bank's target of below but close to 2%.

Draghi signalled yesterday, after the bank's governing council left interest rates unchanged, that a further easing of ECB monetary policy was likely in March.
He told a news conference that the policy-making council was unanimous in its determination to act.
Asked in Davos about a financial market rout since the start of the year, he described it as "market vibrations, gyrations".
He said it was premature to say that the global economic outlook had worsened as a consequence.
"There's certainly a heightened sensitivity to risk, but it's too early to say the perspective has changed. As far as we are concerned, we basically see a recovery that is continuing at a modest pace, but it's a regular one."
Dismissing concerns about divergence between the US Federal Reserve's December interest rate increase and the ECB's easing of monetary policy days earlier, Draghi said it reflected their different positions in the economic recovery cycle.
"It's entirely natural that monetary policies do differ andt hey will be on a diverging path for a while. This will be reflected in different interest rates but it's a normal process," he said.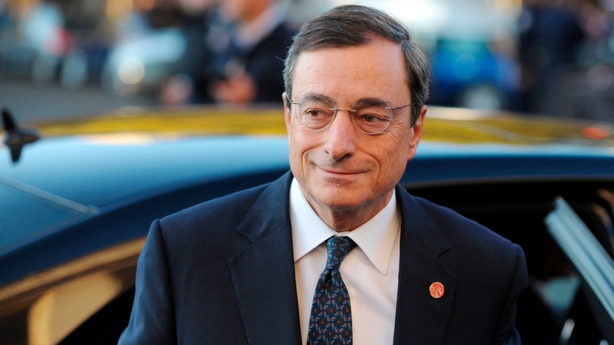 The ECB chief said the euro zone recovery was driven partly by cheap money and lower oil prices, which increased households' disposable income, but also by government fiscal policies that had become "broadly neutral, if not slightly expansionary".
The influx of refugees fleeing war and conflict in the Middle East and North Africa would push governments to increase public investment spending further to accommodate the migrants, he said.
He acknowledged that differences among European leaders over how to share the refugee burden was putting a strain on the European Union's institutions, including the Schengen zone of open-border travel.
But he said he was convinced they would reach a deal to cope with the challenge.
"I'm actually pretty confident that it will happen, that a reasonable agreement will be found. And the reason why I'm confident is the inevitability of this phenomenon will make people understand that there's no choice other than coping with vision, boldness, courage without fear.
"Not to co-operate is to ignore the challenge, and to ignore it will not make it disappear," he stated.
Draghi also said he was confident that Greece, which came to the brink of exit from the euro area last year, would achieve a positive first review of its third bailout programme very soon.
"We're in a much better situation than we were last June," he said. "I'm pretty sure an agreement will be found so the first review could be speedily and successfully concluded."
Negotiations were under way on fiscal targets, a reform to make the Greek pension system sustainable and completing a clean-up of the financial sector.
"Greek banks have been recapitalised but there is still a high level of non-performing loans. So how to deal with this problem will require some changes in financial legislation and a process whereby these loans could be sold so that the banks could fully engage in giving credit to the private sector of theGreek economy," he added.
Asked about turmoil in Italian markets over the banking sector's non-performing loans, Draghi said a questionnaire sent by the ECB's Single Supervisory Mechanism to Italian banks about non-performing loans had been misunderstood.

"There was big confusion I think in my native country," the Italian ECB chief said.
"The supervisor's objective was to see what are the different national practices to deal with NPLs and then later on we will orient towards the best practices. Nothing more than that. So there is not going to be any new unexpected request or provisions or capital stemming from this exercise," he said.
IDA conducts networking in Davos
Meanwhile, IDA Ireland and a delegation from the Taoiseach's office has conducted a series of investor meetings and hosted a client event at the forum in Davos.
Speaking from the Summit, Martin Shanahan, CEO, IDA Ireland said: "Davos is one of the most important events in the IDA's calendar every year.
Our CEO Martin Shanahan has sent us an update from #Davos pic.twitter.com/Gxk9bROS9O

— IDA Ireland (@IDAIRELAND) January 22, 2016
"Some of the most influential business leaders of the world are here - and we're meeting with them.
"We have a great story to tell them about Ireland right now, with record job numbers combining with our excellent talent base to make for a very attractive investment proposition," he added.