The Oireachtas finance committee has said that all of the international private equity firms it invited to a meeting last year to discuss private equity and mortgage provision in Ireland all declined to attend.
In November, the committee said it decided that writing to CarVal, Cerberus, Lone Star, Mars, and Pepper would be useful given the significant role they now play in the Irish economy.
In its written response to the committee in December, the US-owned CarVal Investors (which was shortlisted to purchase NAMA's Project Arrow loan portfolio) said it was unable to attend.
Though, CarVal did add that if it was invited again in the future the firm would "endeavour to make relevant members of our team available".
However, Australian financial services company Pepper - which has had operations in Ireland since 2012 - declined to meet with the Finance Committee.
In a letter to the committee last month, it gave the reason that it is not a private equity company and does not currently provide mortgages in the Irish market. Though, Pepper announced today it is to start offering new mortgages to Irish customers from the start of next month.
Pepper added it was "concerned that we would not be able to answer the Committee members' questions for reasons of confidentiality".
While US private equity firm Lone Star, which bought the Jurys Inn hotel chain last year, also declined the committee's invitation, citing "a long scheduled conflict" for its executives.
The firm did say it would consider meeting with the committee in the future, though highlighted that it "would like greater clarity on the subject matter of the meeting".
The committee said two other investment firms that received an invitation, Cerberus and Mars, did not write back to the committee, but instead phoned to say they would not be attending.
Cerberus was chosen in 2015 as the preferred bidder for NAMA's Project Arrow loan portfolio, which had an original value of around €6.25bn.
90% of NAMA's asset disposals have been to US private equity funds.
Decisions not to attend 'deeply disappointing'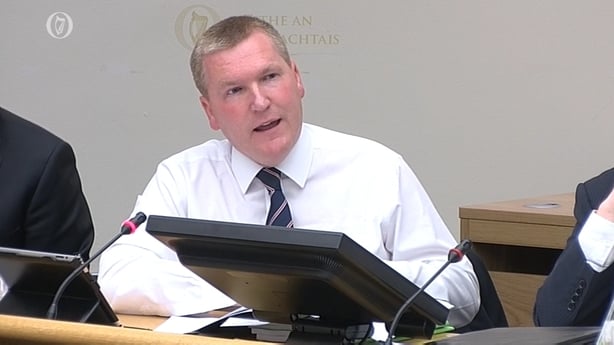 Fianna Fáil's Michael McGrath, who is a member of the Oireachtas finance committee, described the companies' decisions not to attend as "deeply disappointing".
He added that because "these firms own or service tens of thousands of mortgages and have also taken over large portfolios of SME loans" in Ireland their business strategy "should be scrutinised in an open public forum.
"Some of them have refused point blank while others have cited a 'diary clash' as the reason for not attending.
"Figures released to me in the Dáil show that these and other US funds met officials from the Department of Finance a staggering 65 times in 2013 and 2014, with Minister Noonan personally attending on eight occasions."
Mr McGrath said there is no time in current Dáil session to address the issue and that it would be a matter for next Oireachtas Finance Committee.