The cost of petrol and diesel is expected to reduce further, with oil prices reaching levels not seen since 2003.
Crude oil prices have fallen to below $30 barrel and since October last year they are down 40%.
Fuel costs at petrol pumps are now at their lowest level since 2009, with the price of diesel in Ireland falling to below €1 per litre.
The collapse in the commodity is being driven by a surge in supply.
Independent oil analyst Troy Lavin said supply has been "way too much for the last two-and-a-half to three years".
He added: "Demand, which was all being lead by China, is slowing down significantly. Although there is still growth in China, it's a lot less than it used to be."
Mr Lavin expects underlying demand for oil to push prices up and that "we should see it level out and probably increase during the second half of the year - it's just a case of when that happens".
Forecourt operator Applegreen has said it is to cut fuel prices by 3% this weekend, while Topaz said "the company was passing on the fall in oil prices to consumers as they happen".
Tax makes up majority of cost of fuel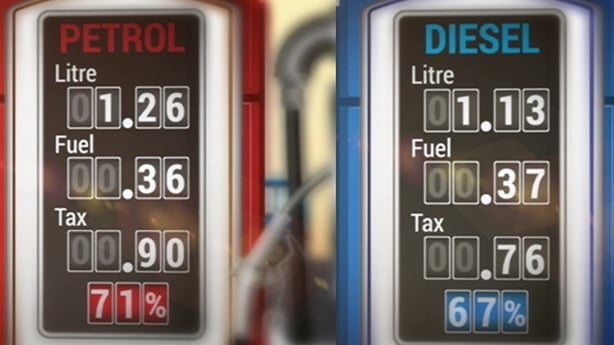 Although prices have been dropping at the pumps, the fall has been a lot less than expected, mainly due to the fact that around 70% of the price of fuel goes to the exchequer in the form of tax.
However, people buying home heating oil have enjoyed a bigger benefit.
Top Oil, which sells around 1.3bn litres of fuel on the island of Ireland annually, said over the last two years households using home heating oil have seen the cost of 1,000 litres nearly halve, from around €850 to €450.
It said "no one would have predicted such a dramatic fall in prices a few years ago" and that "consumers who switched from oil to gas now want to return to oil".