The Government has commissioned a review of legal protections for unsecured creditors and workers who lose out when a company goes into liquidation.  
The move has been triggered by the closure of Clerys, which left over 400 workers with only statutory redundancy payments.
A number of concession holders were also owed significant amounts for takings which were not returned to them.  
The state had to pay €2.5m for the redundancy payments for the former staff, because the Clerys building - which was the main asset of the then owners Gordon Brothers - had been placed in a separate subsidiary. 
As a result, it could not be used to enhance redundancy payments or to pay off creditors when the new owners Natrium liquidated the operating company. 
Natrium, led by Dublin woman Deirdre Foley, has refused to meet the workers or the concession-holders.
Minister for Jobs Enterprise and Innovation Richard Bruton and Minister of State for Business and Employment Ged Nash announced that they were appointing two experts to carry out a review of protections in law for employees and unsecured creditors. 
Mr Bruton said the investigation would focus on ensuring that limited liability rules or restructuring are not used to avoid a company's obligations to its employees and unsecured creditors - particularly where operations and assets may be moved to separate legal entities as part of a restructuring. 
It will specifically look at situations where valuable assets in a company are separated from the operating entity, and how the position of employees can be better protected.
The review will be carried out by the Chairman of the Labour Court Kevin Duffy and company law specialist barrister Nessa Cahill and is due to be completed by 11 March.
 
Minister Bruton has also asked the Company Law Review Group to examine legislation with a view to recommending ways that company law could be amended to better safeguard employees and creditors.  
Among other issues it will examine the strengthening of directors' duties to employees. 
It will also examine the circumstances in a liquidation of an insolvent company where company liabilities might be met from solvent companies in the same group or in related companies.  
Minister Bruton described the treatment of the Clerys' workers as appalling.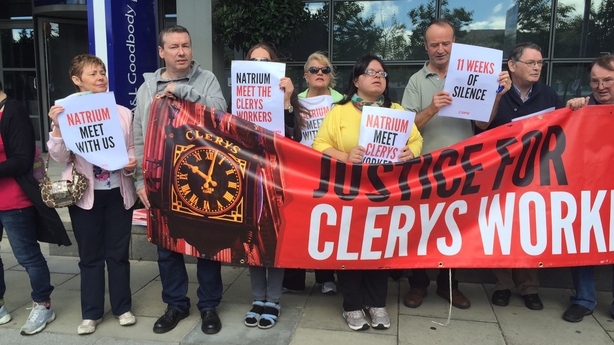 He said the Clerys' case and others had shown the potential consequences that can flow to workers, taxpayers, suppliers and other creditors from the exploitation of the interface between company law and employment law to create consequences that were never intended. 
Minister Nash described the Clerys' situation as predatory capitalism at its very worst.