China's total trade in December shrank much less than expected, but still likely consigned the economy to its weakest annual growth in 25 years, new figures show.
Exports in December fell 1.4% from a year earlier, data from the General Administration of Customs showed.
This was much less than a Reuters poll forecast for an 8% drop and moderating from November's 6.8% decline.
The surprising data suggested that exports may be getting a boost from China's decision to allow a sharp slide in the value of the yuan currency late last year, which has continued into 2016.
Chinese imports fell 7.6%, receding for the 14th consecutivemonth but not as sharply as feared, possibly due to factories stocking up on cheaper crude oil, iron ore and other raw materials.
Indeed, China's crude oil imports hit a record high.
Economists had forecast an 11.5% import slide, after an 8.7% drop in November.
The combination produced a $60.09 billion trade surplus for December, compared with economists' expectations of $53 billion and November's $54.1 billion.
But analysts warned the upside surprise in December did not necessarily mean sluggish global trade would be on more stable footing in 2016.
The surprising trade data comes as China's financial markets have erupted in a fresh wave of turmoil, jolting investors around the world.
China last week allowed the biggest fall in its yuan currency in five months and stock prices plunged, sparking concerns about the health of the world's second-largest economy, though there has been little evidence so far that conditions have deteriorated sharply in recent weeks.
China's central bank has allowed the yuan to weaken more than 5% against the dollar since August.
Sources have told Reuters there is some pressure from policy advisers to allow an even sharper fall of as much as 10-15%, which would add to fears of competitive devaluations around the world.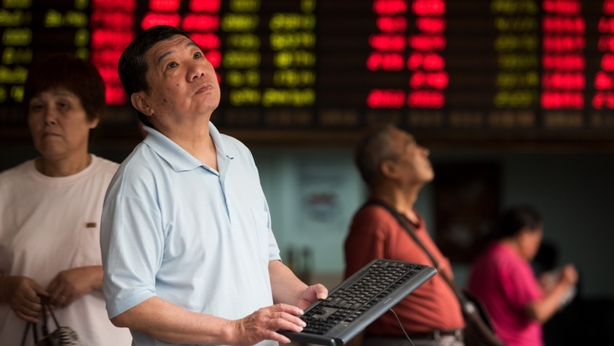 But economists are not sure if even a 10% depreciation in the yuan would provide much of a boost to exports given persistently weak global demand.
Also, while the yuan has softened considerably against the dollar, it has not weakened as much against other currencies in trade-weighted terms.
China's economy likely grew by around 7% in 2015, in line with the government's official target, the top economic planning agency said earlier this week.
But such a level would be the slowest pace of expansion in a quarter of a century, and down from 7.3% in 2014 as weak exports, industrial overcapacity and faltering investment drag.
Some China watchers believe real growth levels are already much weaker than official data suggest, reinforcing expectations that the government will have to roll out more stimulus measures this year to avert the risk of a hard landing for the economy.
China will release fourth-quarter and full-year 2015 economic growth data on January 19.