Smaller apartments are to be permitted under new planning guidelines published by the Department of the Environment.
Minister Alan Kelly said that 8,000 residential units needed to be built in Dublin this year, but fewer than 3,000 were delivered.  
Mr Kelly said the viability of new construction was holding back the supply of housing, particularly apartments.  
The new planning guidelines on design standards for apartments sets the minimum size of one-bedroom units at 45 square metres, two beds at 73 and three beds at 90 square metres. 
Studio apartments of 40 square metres will also be permitted in certain developments. 
Up until now the the minimum size for a one bedroom apartment in Dublin City and Cork is 55 square metres and for a two bed it is 90 square metres. 
Under the new guidelines, the number of "dual aspect" apartments required in a scheme is reduced and North facing single aspect apartments may be considered where they overlook a park or a garden. 
The new guidelines also reduce purchase and maintenance costs arising from what is described by the Department as overly burdensome lift requirements.
Significantly, these new orders take precedence over policies and objectives of development plans and local area plans and apply to all developments whether public or private.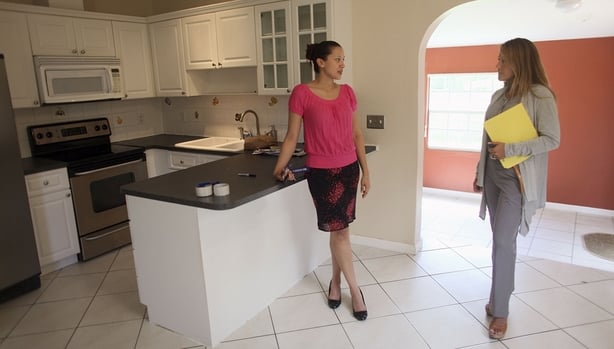 In a statement, the Irish Planning Institute says while these guidelines reduce local autonomy, they recognise the urgent need for an affordable housing supply. 
The President of the Irish Planning Institute has said it remains to be seen if a change to design standards for apartments will alleviate the housing crisis.
Speaking on RTÉ's 'Today with Sean O'Rourke' programme, Mary Hughes said the building of studio apartments and the reduction in apartment sizes is one approach to try to provide an affordable and practical solution to deal with the shortage of homes.
She said there are restrictive and specific qualitative guidelines in place to ensure that dwellings are practical for people to live in, adding the Irish guidelines in terms of size are quite favourable in comparison to international standards. 
Ms Hughes said: "The guidelines provide consistency and certainty to the housing supplier and in the times that we live in that is what is required in order to encourage and facilitate investment in that housing sector and we urgently need it."
Meanwhile, a lecturer in housing and urban economics at DIT has said the decision to allow smaller studios to be built make no sense.
Dr Lorcan Sirr described the new guidelines as "unfortunate", adding that they have no sustainable sense and the economics are non-existent. 
Dr Sirr said that a new smaller apartment will have the same sale price as the current size so the only winner will be the developer. 
He stated that we are the only capital city where we are intent on reducing standards instead of increasing them, adding that the Environment Minister has been "selective" in the choice of comparisons with European cities.
He said that smaller units will reinforce a sense of transient living.
Dr Sirr also said that these guidelines will have no impact on encouraging developers to build and he said that taxing vacant land would be a greater incentive. 
However, Minister Kelly has said he does not believe that the new guidelines are a lowering of standards and that they are design standards, not building regulations.
Mr Kelly said that this incentive is aimed at encouraging developers to build apartments in the city.
He said that currently apartments are not being built because they are not viable projects for developers.
Speaking on RTÉ's Morning Ireland, Mr Kelly said: "We have made changes to ensure that there can be apartments built, particularly in the city centre locations, that are actually affordable. 
"There are a lot of cranes around Dublin city centre at the moment, there's a lot of building going on. That building that's going on is basically office blocks.
"They are not building apartments. And the reason they're not building apartments is simply this - they are not viable. They are not financially viable."