The State is to receive €1.64 billion in cash from AIB today following approval of the bank's capital reorganisation at its EGM yesterday.
In a statement, the Department of Finance said the transaction marks the first meaningful return of capital to the State from its investments in AIB and completes the reorganisation measures which were approved in November.
The Finance Department said that due to the AIB repayment, the strong tax performance this year and other revenues from investments in the banking sector the Exchequer will be close to balance this year for the first time in nearly a decade.
"Today represents a significant milestone for the State and its investments in AIB," commented Finance Minister Michael Noonan.
He said that at the start of the year, the Department had set out an ambitious agenda to start the process of recovering the taxpayer's investment in AIB.
"We worked with AIB to reconfigure the bank's capital structure to make it fit for purpose and to also agree a roadmap to see the bank begin to return capital to the State", he said.
Mr Noonan said the return of significant capital to the State has commenced and AIB now has a strong market facing capital structure that will enable the State to maximise value for the taxpayer in any future exit event.
The State still owns 99.8% of the bank, an investment with a current value of about €11.7 billion.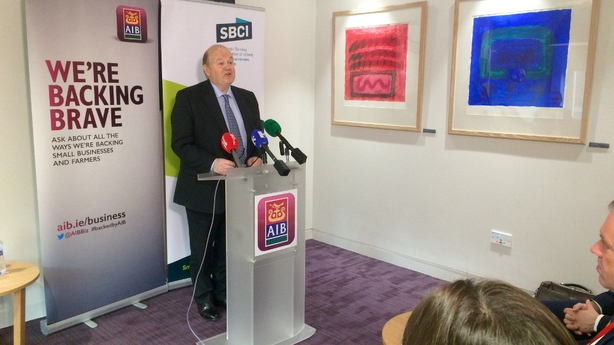 Mr Noonan said that, if re-elected, the Government would immediately "push the button" on a flotation of 25% of AIB. He said that would likely see the IPO take place towards the 'back end of 2016.'
When pressed on this, he said there were two likely windows - one in June and another around September or October.
He said the shares would be principally listed on the London stock exchange.
Mr Noonan said he remained confident that the taxpayers' full investment in AIB will be recovered in the years ahead.
Meanwhile, AIB also said today that it has secured an additional €200m in new funding as part of its partnership with the Strategic Banking Corporation of Ireland.
The funding will be made available for businesses and farmers at a variable rate of 4.5%. The loans will be for working capital and investment and will have terms of between two and ten years.
AIB also said that it has already approved €200m of business credit for over 5,000 customers nationwide since the first tranche of the SBCI fund was launched in March.
It noted strong demand from the hospitality, retail, services, agriculture and manufacturing sectors. The average drawdown was €28,500 but loans ranged in size from €1,000 to €1m.