The economy has grown by 7% in the first nine months of the year, according to new figures from the Central Statistics Office.
GDP growth in the year so far has been 7%, while GNP has grown by 5.6%, today's Quarterly National Accounts from the CSO show.
On an annual basis, the economy grew by 7% of GDP and 3.2% of GNP, which mainly strips out the effect of foreign multinational companies operating from Ireland. 
Growth in the third quarter came to 1.4% of GDP compared to the second quarter. But GNP turned negative at -0.8%, due to an increase in outflows payments to multinationals  compared with the second quarter.  
Ireland's growth was among the highest recorded in Europe in the third quarter, at more than three times the euro area average.
Consumer spending in the quarter was up 0.7% compared with the second quarter, with spending on goods up 2.5% while spending on services fell by half a percentage point.
Total domestic demand - spending in the Irish economy - grew by 3% in the three months to the end of September, but net exports fell by 15% in this period.  
Output increased across most sectors, particularly manufacturing which rose by 2.35%, while construction was up 1.2% and agriculture grew by 11.4%.
Net factor flows - money flowing out of the economy, typically in profits to the headquarters of foreign owned multinationals - increased to €8.2 billion in the third quarter, compared with €7.6 billion in the second.
Today's CSO figures show that investment was up almost 5%, while net exports were down just over 15%. 
Machinery and equipment is down 22% but intangibles are up 17% - these are patents moving into the country but which also show up as imports, so depressing the net export figure. 
Commenting on today's figures, Finance Minister Michael Noonan said that they are once again very strong and provide further confirmation that economic recovery is now firmly embedded.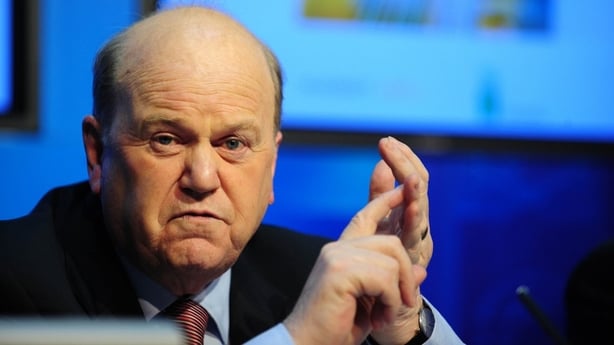 Mr Noonan said the CSO figures confirm that the increase in economic activity is broadly-based. 
He noted that domestic demand increased strongly once again, reflecting the ongoing improvement in confidence. The exporting sectors also recorded strong growth, with exports of goods and services over 12% higher than in the same period last year.
"These data are mirrored in strong employment growth and tax receipts in the third quarter; moreover, tax receipts have continued to perform strongly during the final quarter," the Minister added.
Merrion economist Alan McQuaid said it is quite clear from these latest figures that the Irish economy continues to go from strength to strength and will easily top the euro zone growth league table again this year. 
"Based on the numbers for the first three-quarters of the year and even allowing for some slowdown in the final quarter because of weaker global activity, average GDP growth for 2015 as a whole is likely to be close on 7%, a level not seen since the Celtic Tiger era," the economist said.
"Assuming no major external shock in 2016, the positive stimulus measures announced in Budget 2016 should help to generate further strong growth next year, with every possibility at this juncture of another 6-7% GDP growth performance," he added.
Employers group Ibec said today's Quarterly National Accounts figures show the Irish economy is on course to achieve its strongest annual growth rate in 15 years in 2015. 
In a statement, it said that stronger than expected consumer spending is set to raise annual growth forecasts, with the public increasingly feeling the tangible benefits of the surging economic recovery.
"The growth in domestic demand represents a crucial turning point for the Irish economy and will boost household living standards," commented Ibec's senior economist Gerard Brady. 
"Despite the return of strong employment growth and the spectacular export performance, many did not feel the full benefits of the recovery over recent years. This is now changing. Wages are rising, income tax is set to fall further and disposable income is increasing," he stated.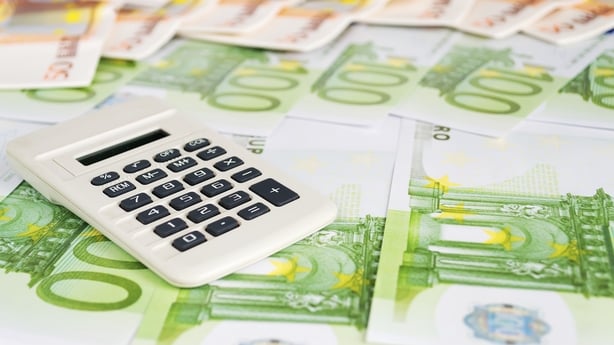 KBC Bank economist Austin Hughes said that the Irish economic performance is exceptional in relation to advanced economies, with IMF estimates suggesting the next strongest performance will be Iceland (+4.8%). 
Within the EU, Ireland will be followed by Luxembourg (+4.4%). The Euro area as a whole is seen growing by 1.5% while the US and UK are both expected to post growth of around 2.5%. 
The economist said that consumer spending is picking up notably while out-sized export growth is continuing.  With house-building up just 11.3% and overall construction up just 0.9% in the third quarter of 2015 from a year earlier, these data also underline the supply issues that continue to underpin rapid property price inflation, he added. 
"The robust health of the multinational sector is seen not only in exports but in the associated buoyancy of imports and net factor flows. So, it would seem the Irish economy is firing on nearly all cylinders as 2015 draws to an end," he concluded.