Residential property prices grew at their second fastest monthly rate this year in October, increasing 1.6% from the previous month, but the annual growth rate continued to slip.
New figures from the Central Statistics Office show that residential property prices rose by 7.6% on a yearly basis - the lowest level since January 2014.
Property prices had shown their fastest growth of the year in August, when they rose by 2.3% on a monthly basis.
Today's figures reveal that Dublin residential property prices increased by 1% in October and are 4.5% higher than the same time last year.
Dublin house prices were up 1% in October compared to September, while apartment prices in the city rose by 0.8%.
Outside Dublin, residential property prices increased by 2.1% last month. Prices are up 10.7% compared with the same month last year.
Overall, residential property prices nationwide remain 33.5% lower than their peak level in 2007. Dublin house prices are 33% lower than their peak, while Dublin apartment prices remain 40.2% off their highs.
Outside Dublin, residential property prices are 36.3% lower than their highest level in 2007.
The Central Bank introduced restrictions on mortgage lending in January to try to ensure rises do not return to unsustainable levels amid a supply shortage.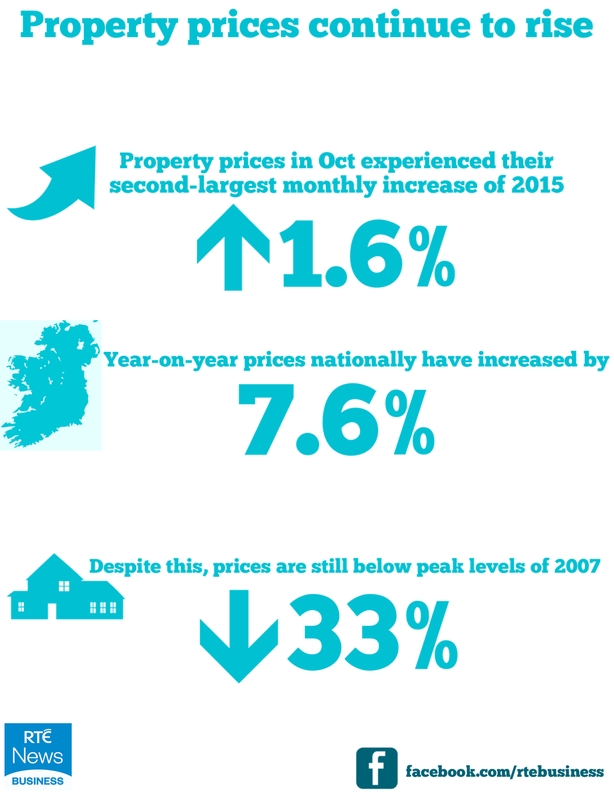 Alan McQuaid, chief economist with Merrion, said it was clear that the lending restrictions were having a dampening effect on prices.
He said it was now apparent that the better-than-expected outcome in August was just a seasonal thing rather than a sign of renewed strength in the housing market on the back of a booming economy.
"The generally better economic backdrop, particularly in relation to the labour market, should see house price growth remaining in high single digits on a year-on-year basis for a while yet, even with credit restrictions and increased planning permissions," he said.
"We are now looking for an average increase of just under 11% for 2015, down from 12.9% in 2014."
Austin Hughes, chief economist with KBC Bank Ireland, points out that the annual rate of increase in property prices in Dublin is now less than half that outside of the capital.
"Supply considerations and macro-prudential rules may be leading to some tendency towards a reduction in the price gap between properties in Dublin and elsewhere."
"This movement is at odds with that seen between London housing prices and those elsewhere in the UK or suggested by the relative intensity of the economic recovery in Dublin and elsewhere," he said.
Mr Hughes said annual increases of between 3% and 5% were sustainable in a strongly growing Irish economy, but added there were no automatic tendency or policy levers in place to ensure such an outcome.
Goodbody economist Julliet Tennent points out some difficulties in making comparatives to last year in the capital owing to the surge in activity in the final quarter of 2014 ahead of the expiration of a property related capital gains tax relief at the end of last year.
"In the medium term, we expect that the impact of the [Central Bank] rules will wash through, and while they will act to curb excessive price growth, there has been no change to the supply demand dynamics, which remain supportive of higher house prices," she concluded.